Crypto analysis channel BitBoy Crypto recently posted a YouTube video featuring Dutch entrepreneur and Bitcoin investor, Didi Taihuttu, discussing the significance of investing in Bitcoin in the upcoming bull market in 2024. Titled "Sell Everything, Buy Bitcoin," the video featured the crypto millionaire saying that the end of the current bear market presents an opportunity for potential Bitcoin investors.
After a brief introduction, Taihuttu dove into the question of the hour and emphasized: "If I had a house, a car, and everything else that I had seven years ago, I'd sell everything and go all in now, because we are at the bottom of the bear market cycle."
Moreover, Taihuttu advises new traders to start trading against big institutions and retail investors during the bull market while there is "no liquidation." Additionally, he notes that the best time to sell is approximately 18 months after the harvest when Bitcoin is at its peak, which is around October 2025, according to Taihuttu.
According to data from CryptoQuant, BTC's price decreased parallel to miners selling off their crypto holdings. An analysis of the 14-day simple moving average (SMA) for Bitcoin's Miner to Exchange Flow indicated a 35% increase in this measure since August 31. Bitcoin's price fluctuations have a strong correlation with instances when miners in the network transferred their coins to spot exchanges, both in upward and downward movements, clarified a BTC analyst. At the time of writing, the leading cryptocurrency is trading at $25,967 as per CoinMarketCap.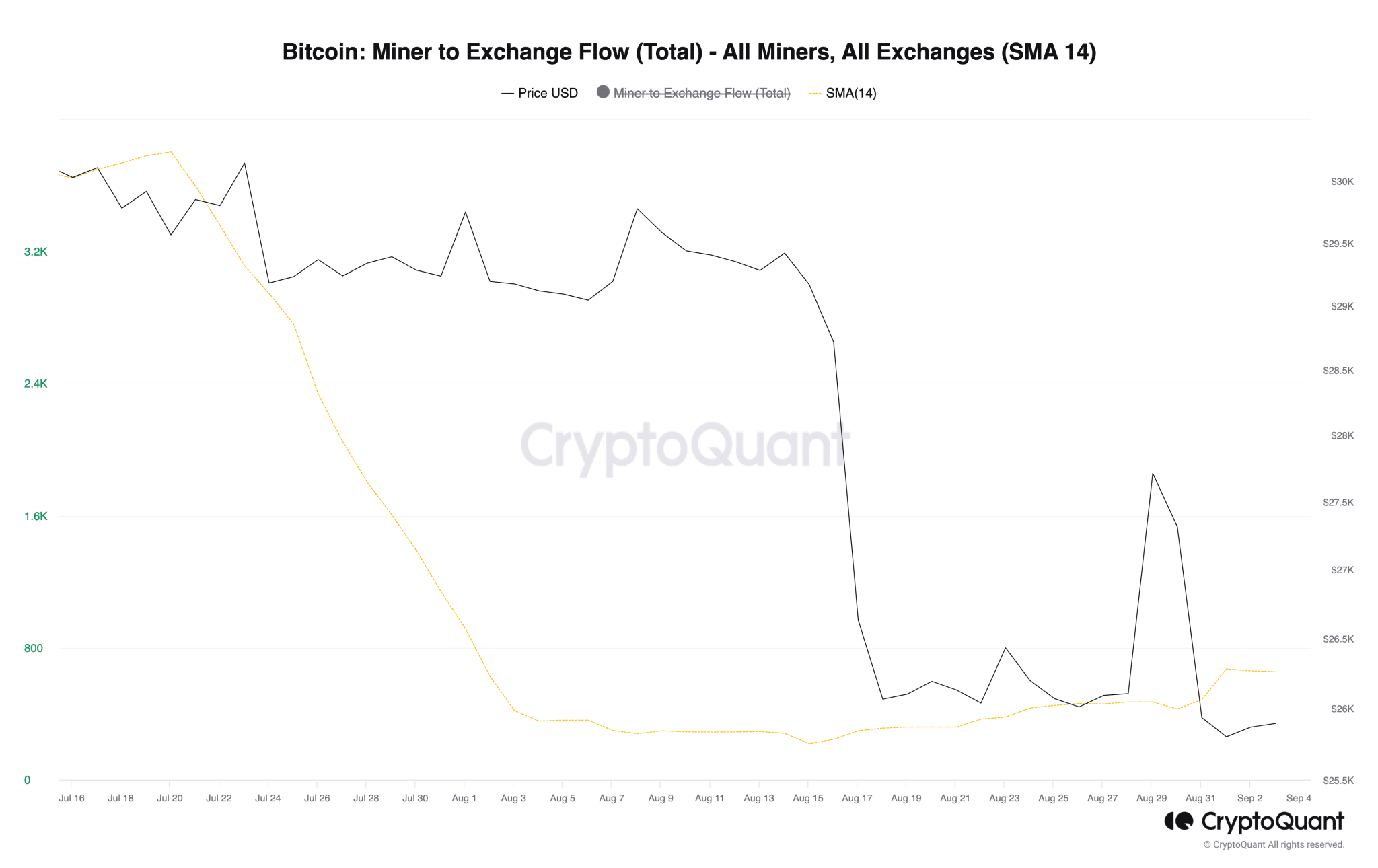 Miners off-loading their BTC holding
Apart from major players such as BTC and Ethereum, Taihuttu believes Near Protocol (NEAR) and Polkadot (DOT) will outperform the rest. On the other hand, the investor confessed that he would never buy Ripple as it is "too centralized," while citing it is a good option for banks for swift payments.
Data from CoinGecko showed that currently, NEAR is priced at $1.14, with a trading volume of $53,623,172.59 over the past 24 hours. The coin's price has increased 0.98% within the last 24 hours, but there has been a 1.85% decrease in its price over the past week.
Meanwhile, Polkadot is currently up by 0.20%, trading at $4.29. Additionally, the DOT community has expressed optimism regarding a recent proposal to list its token as an asset on the Kusama Asset Hub.