In anticipation of a positive price trend reversal, Ripple (XRP) speculative traders have increased capital inflows in the first week of September. On-chain analysis examines how the XRP speculators could impact the spot prices in the coming weeks.
Ripple's (XRP) price retested $0.55 on August 29 before a profit-taking wave from long-term holders caused a major retractment toward $0.50. This week, some green signals have emerged in both the derivatives markets and among whale investors.
XRP Price Speculators Have Increased Capital Inflows
XRP price speculators have started piling fresh funds into XRP Futures Markets in anticipation of a potential turnaround. After an underwhelming end to August, Coinglass data shows that XRP Open Interest increased by $8 million in the first trading days of September.

XRP Price Speculators Anticipate Bullish Reversal | Derivatives Market Data, Sept 2023 | Source: Coinglass
Open Interest sums up the value of active derivative contracts for an asset. An uptick in Open interest is a bullish signal, indicating that price speculators are gradually bringing fresh funds into the XRP Futures markets.
Notably, this $8 million increase in Open Interest has coincided with a period where the XRP price has continued to slide downward. Such a positive divergence between spot prices and Open Interest points towards a possible bullish trend reversal in the coming days.
Vega Protocol: A Deep Dive on the Crypto Derivative Platform
Whale Investors are Also Piling on Buying Pressure in the Spot Markets
Furthermore, crypto whales holding 1 million to 10 million XRP have also been spotted piling bullish pressure on XRP since the start of September. This cohort of price-savvy whales has also echoed the optimism of the derivatives traders, adding 30 million XRP coins to their balances.
As depicted below, the whales only held 3.73 billion XRP in their cumulative balances at the close of August 31. But as of September 4, they have bucked their month-long selling frenzy to increase their holdings to 3.77 billion XRP.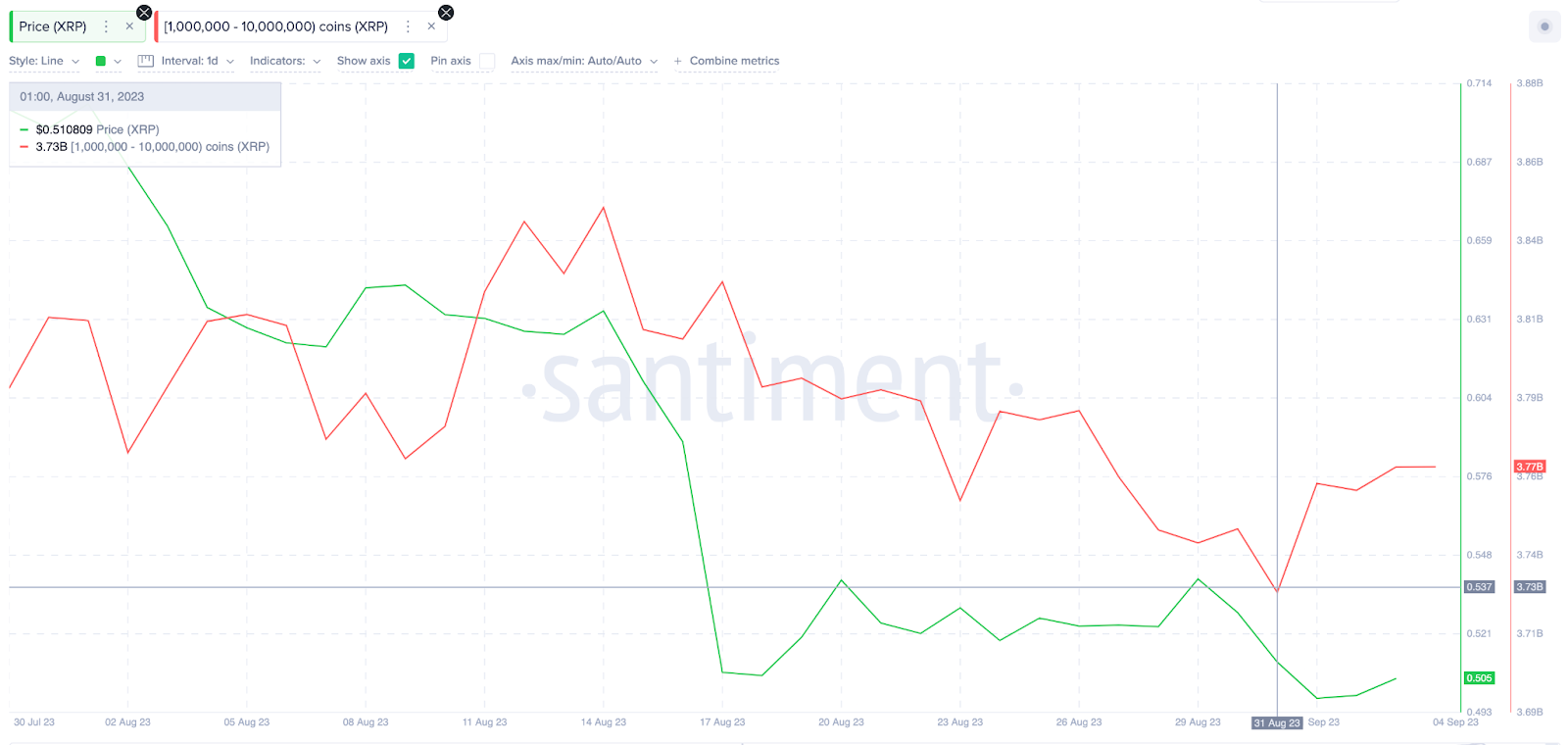 XRP Price Speculators Anticipate Bullish Reversal | Whales Wallet Balances, Sept 2023. Source: Santiment
At the current market value of $0.50, the whales have now invested $15 million in September. When whales add this many coins within a week, they might anticipate a bullish price reversal.
Considering how influential whales are in blockchain communities, it's only a matter of time before retail investors begin to mirror their trades. In conclusion, the bullish pressure of whale investors and derivatives market traders could propel XRP above the $0.55 resistance.
XRP Price Prediction: Possible Breakout Toward $0.60
After more than a month in the red, XRP may be lining up trades to regain control in the coming weeks. The Market Value to Reallized Value (MVRV) ratio, which gauges the net financial position of current XRP holders, also validates this prediction.
It shows that with prices currently sitting at $0.50, investors who bought XRP within the past month will make 3% losses if they sell. Hence, XRP could face initial resistance around $0.52 if they chose to exit when they break even.
But if that resistance level caves, the bullish whales and price speculators could combine to push the XRP rally toward $0.60 as predicted.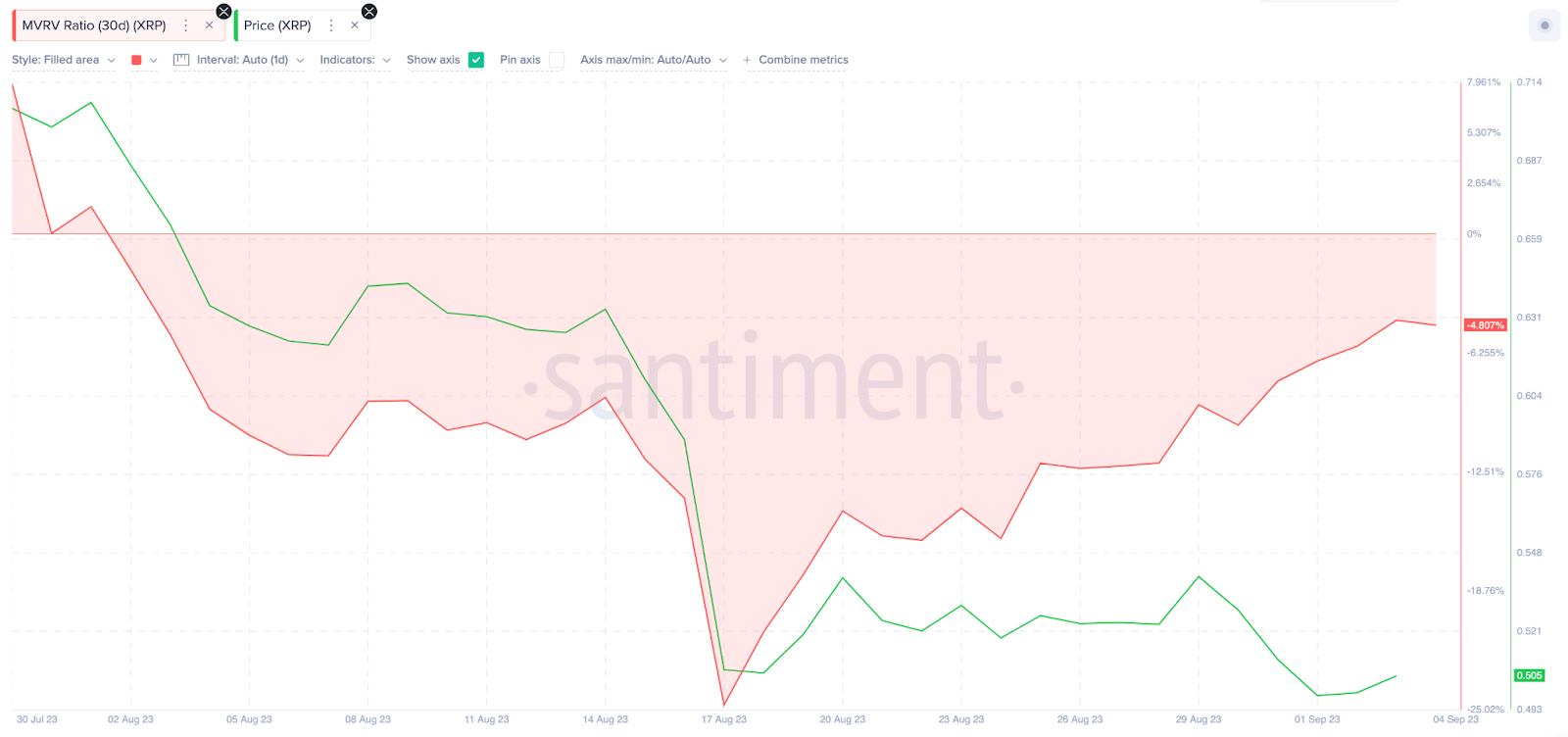 Ripple (XRP) Price Prediction – MVRV Ratio. Sept 2023. Source: Santiment
Conversely, the bearish XRP traders could attempt to force another downswing toward $0.45. But those who avoid booking losses greater than 5% will offer significant support at the $0.49 territory.
But if the bearish momentum grows, XRP price could eventually drop toward $0.45