Jüngste Gerichtsdokumente, die beim U.S. Bankruptcy Court for the District of Delaware eingereicht wurden, haben eine Reihe von Finanztransaktionen enthüllt, die dem Niedergang von FTX im November 2022 vorausgingen und von denen vor allem einflussreiche Insider profitierten.
Die Schuldner von FTX weisen jedoch darauf hin, dass die Richtigkeit der Daten nicht garantiert werden kann und lehnen die Verantwortung für mögliche Fehler ab.
Im März des vergangenen Jahres erhielt Sam Trabucco, ehemaliger Co-CEO von Alameda Research, eine Überweisung in Höhe von $2.51 Millionen von dem Unternehmen an die American Yacht Group. Als er im August 2022 per Tweet zurücktrat, bestätigte er öffentlich den Besitz der Jacht.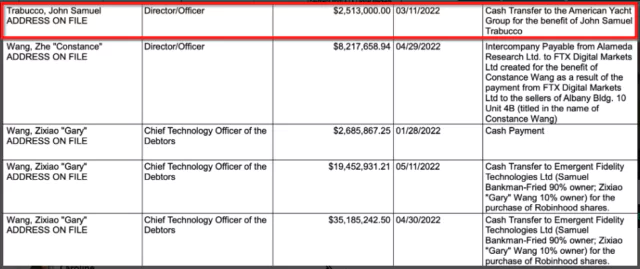 Die Unterlagen deuten außerdem darauf hin, dass Alameda Research von potenziellem Fehlverhalten von Sam Bankman-Fried, dem Gründer von FTX, gewusst haben könnte, aber keine Maßnahmen ergriffen hat, was zum Zusammenbruch von Alameda und den Verlusten der Anleger beigetragen hat und einen Schatten auf die Integrität der Kryptowährungsbranche wirft.
Trabuccos rechtzeitiger Abgang im August 2022, der nichts mit den Anschuldigungen gegen die Unternehmen zu tun hatte, ging dem Konkurs von Alameda und FTX voraus. Seitdem hat er ein niedriges Profil beibehalten.
---
Aus den Gerichtsdokumenten geht auch hervor, dass ehemalige FTX-Führungskräfte, darunter Bankman-Fried, Gary Wang, Nishad Singh, Darren Wong und Constance Wang, innerhalb eines Jahres vor dem Zusammenbruch des Unternehmens Barzahlungen in Höhe von insgesamt über $3 Milliarden erhielten. Bankman-Fried erhielt $2.2 Mrd, Singh und Wang erhielten $587 Mio. bzw. $246 Mio.
Bankman-Fried sieht sich mit dem Vorwurf der Zeugenmanipulation konfrontiert und befindet sich im Metropolitan Detention Center in New York in Haft; ein Prozess ist für den 2. Oktober angesetzt. Diese Entwicklungen haben unwillkommene Aufmerksamkeit auf den anhaltenden Kampf des Kryptowährungssektors gelenkt, sich von finanziellem Fehlverhalten zu distanzieren.