Bitcoin's (BTC) price has again fallen below the $26K mark.
BTC has been oscillating between $25,000 and $26,000.
Bitcoin (BTC), the world's largest cryptocurrency, has experienced a strong bearish momentum for the past few weeks. Recently, BTC has shown a slight recovery of 0.50% after staying below $26,000 for the past few weeks. With this price surge, BTC surpassed the $26K mark. However, it didn't stay for long, and the price dropped to below $26K again.
In recent days, Bitcoin's price has been oscillating between $25,000 and $26,000. And BTC is struggling to gain momentum to break this cycle. Moreover, the U.S. SEC's delay in the Bitcoin ETF filing added more pressure on the trading price. Recently, former SEC chairman Jay Clayton stated that the approval of the Bitcoin ETF is inevitable and that the SEC may announce its decision in mid-October. The approval of the Bitcoin ETF is expected to be reflected in the trading price of BTC.
Bitcoin (BTC) Price Analysis – 24-Hour Timeframe
At the time of writing, Bitcoin has fallen below the $26K mark and is trading at $25,983, with an increase of over 0.41% in the past 24 hours. The daily trading volume of BTC has experienced a surge of around 6.92%, according to CoinMarketCap.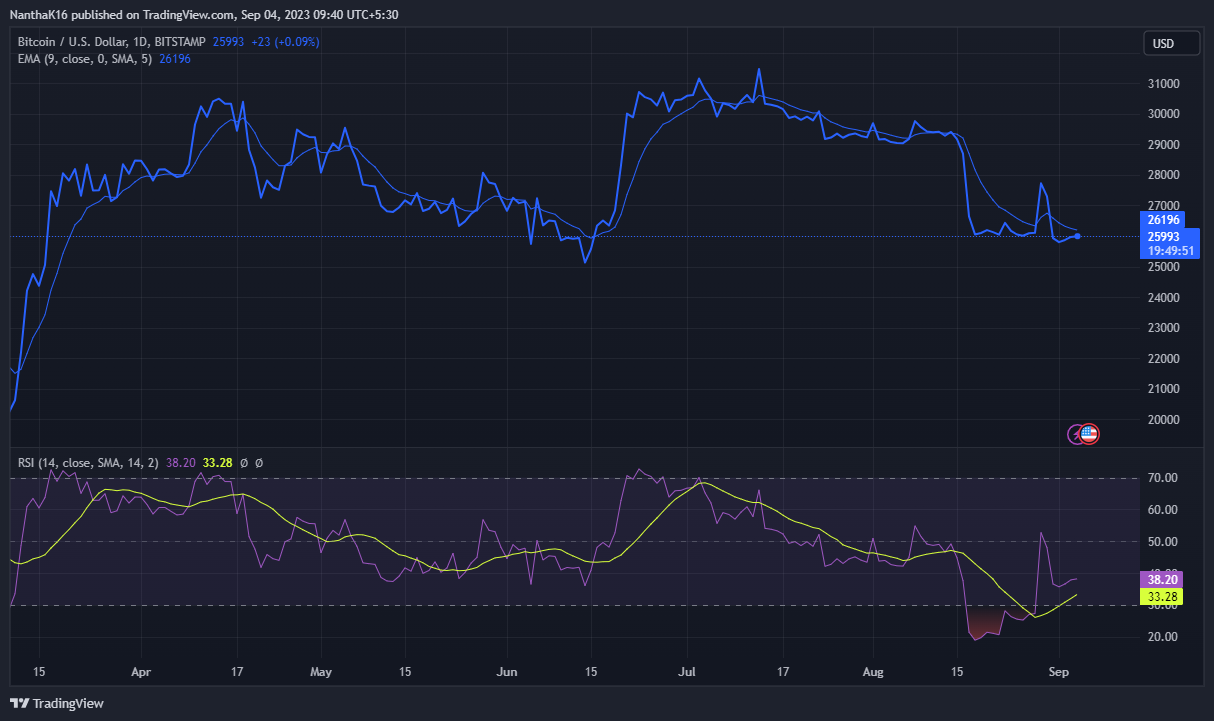 Ethereum (ETH) Daily Trading Price Chart ( Source: TradingView)
The daily trading chart shows that Bitcoin continues its bearish momentum as its current price is below the 50-day exponential moving average (50 EMA). Meanwhile, the daily relative strength index (RSI) is at 33.25, denoting that the largest cryptocurrency is on the border of the oversold zone.
If the current trend reverses, BTC will experience a bullish trend and surpass the nearest resistance of $26,500. If the trend continues, it will breach the $27K mark and even advance to surpass the $28K mark. On the other hand, there is a possibility that Bitcoin may experience a further downtrend. If it occurs, the price will breach the nearest support level of $25,500. In the worst-case scenario, the downtrend will potentially bring it below the $25K range.