Banana Gun, a Telegram bot designed to assist users in purchasing tokens on the Ethereum Network, has seen its token experience a volatile day in the market--with an 18% gain at one point--only to settle at a modest 2.57% increase later in the day. This raises questions about its short-term and long-term prospects.
As investors grapple with these rapid fluctuations, various technical indicators are painting a mixed picture.
Banana Gun (BANANA) Price Prediction and Technical Analysis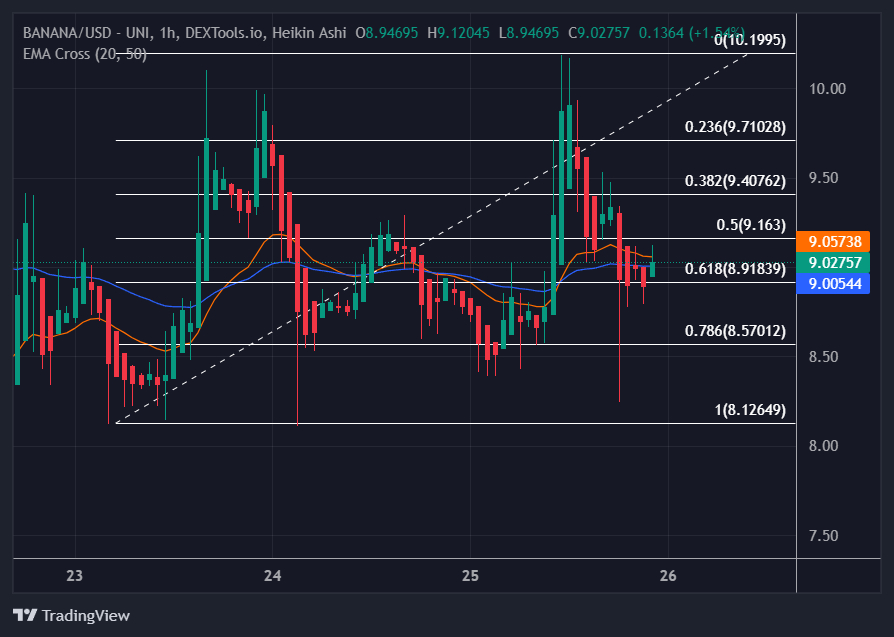 BANANA/USD Chart on TradingView
The 20-day EMA for BANANA coin is currently positioned at $9.05662, slightly above the 50-day EMA of $9.00512. Generally, a short-term EMA exceeding a long-term EMA is perceived as a bullish indicator, signaling potential upward price movement.
However, the narrow gap between these EMAs, coupled with the minor price increase to $9.1122, urges a cautious approach. The minimal difference between the EMAs reflects a heightened volatility and uncertainty in the BANANA coin price.
The RSI is currently at 46.53, up from yesterday's value of 45.15. The moderate RSI suggests a balanced market condition, not leaning excessively towards overbought or oversold territories, thereby implying the potential for either upward or downward movement.
The MACD histogram today is at -0.03919979, showing a decrease from yesterday's -0.02479604. The increasing negative value indicates that bearish momentum may be intensifying, which could further impact BANANA coin's price.
Analysis of Volume, Market Cap, and Key Price Levels
The 24-hour volume has seen a substantial increase of 66.97% to $1,724,820, ranking #468 on CoinMarketCap. This surge in volume implies a heightened interest and activity around BANANA coin, potentially leading to increased price volatility.
The BANANA coin currently faces a horizontal resistance level at $9.163. Overcoming this resistance could be indicative of a possible upward trend. Simultaneously, an immediate support level is found at $8.91, providing a safety net against potential downward movements. If BANANA coin can sustain above this support level, it may deter further declines.
Projection for BANANA Coin
With the BANANA coin demonstrating stability above the crucial support level and the RSI indicating a neutral market condition, the coin's future trajectory remains uncertain. The enhanced volume points to increased investor interest, but the growing negative MACD suggests a possible bearish trend.
Investors are advised to trade within defined risk parameters and to remain vigilant for decisive market catalysts. A breach below the $8.91 support or a breakout above the $9.163 resistance could determine the forthcoming trend for BANANA coin.
As the unpredictability of crypto is highlighted by the BANANA token's volatility, traders seek tools to better anticipate market moves.
yPredict strives to provide this by merging statistical methods with AI for accurate price modeling.
Advancing Price Prediction: yPredict's AI-Infused Offerings
yPredict is integrating advanced artificial intelligence models to provide dependable future price estimates for various cryptocurrencies. The methodology employed by the platform intertwines statistical methods with cutting-edge AI techniques.
More specifically, yPredict incorporates the ARIMA model, a statistical method dating back to the 1970s, and Long Short-Term Memory (LSTM) neural networks, offering a refined approach to crypto investment and price prediction strategies.
The utilization of these AI crypto models by yPredict could have profoound implications, serving diverse needs for a variety of market participants. Traders will leverage these models to corroborate their market analyses, discern potential cryptocurrencies, and possibly obtain a competitive advantage in the market.
In an environment characterized by its erratic nature, these price prediction models could present a potential substitute to conventional market analysis techniques.
Expanding Access and Customization
yPredict aspires to broaden the availability of its models to numerous professionals, encompassing market analysts, quantitative researchers, and software engineers. These professionals will be given the opportunity to modify the models to align with their distinct requirements.
The consequent, tailored models will then be accessible to traders through the yPredict marketplace under a subscription-based model, rendering the platform a hub for tailored AI crypto solutions.
yPredict has outlined its objectives to roll out a beta version of its marketplace by the close of the year, inclusive of a trading terminal. As per the organization's whitepaper, there are efforts to augment the data science team and perfect their predictive models in the following months.
Payments for the services provided by yPredict will be transacted using its proprietary cryptocurrency, $YPRED. This currency is anticipated to experience a surge in demand as the platform accrues more users, solidifying its position in the ai crypto and crypto investment spaces.
Introduction of WriteMingle: A New Frontier in Content Creation
In conjunction with its AI crypto services, yPredict has unveiled the beta launch of WriteMingle, a tool designed to streamline content creation and collaborative endeavors.
WriteMingle is expected to optimize content creation workflows by introducing functionalities such as intelligent content generation, plagiarism detection, and search engine optimization.