In the previous 24 hours, bearish momentum in the Worldcoin (WLD) market has been robust, with prices falling from an intraday high of $1.38 to an intraday low of $1.24. Consequently, WLD was trading at $1.34 as of press time, down 1.29% from its intraday high. The WLD market's negative trend may be attributable to rising selling pressure and a lack of significant buying support.
A break below $1.24 might signal that bears are ready to push the market to the next support level around $1.20. However, if bulls can disperse negative momentum, WLD might recover and restore strength.
WLD's market capitalization and 24-hour trading volume fell by 1.38% and 44,55%, respectively, to $174,797,988 and $124,436,135. This market capitalization and trading volume decline reflects the WLD market's negative trend.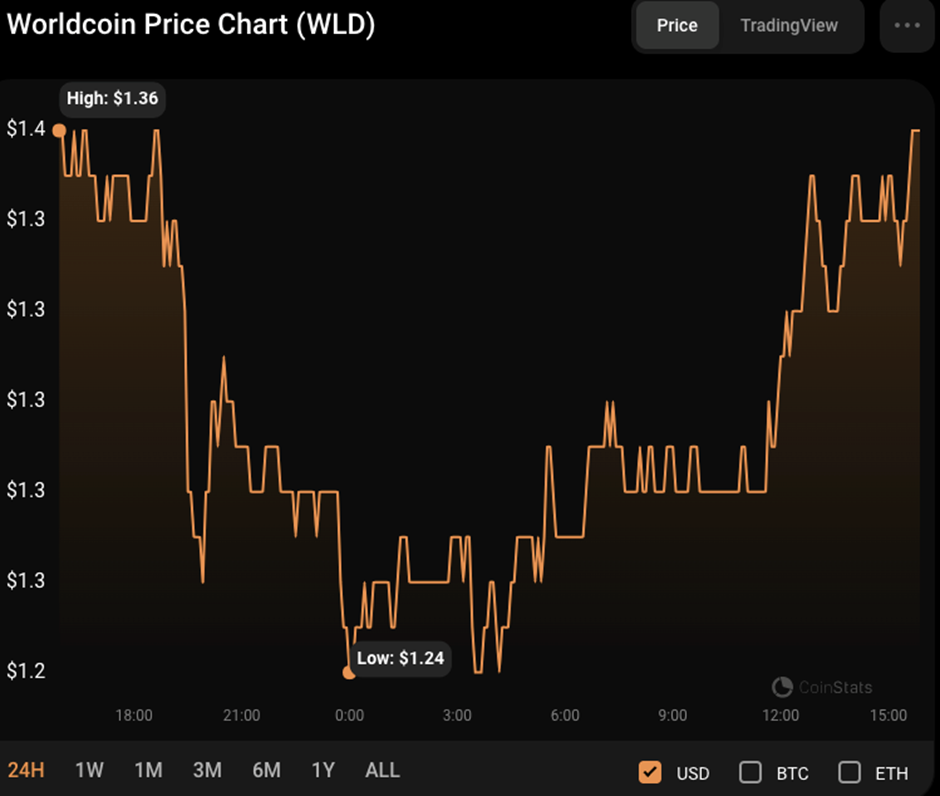 WLD/USD 24-hour price chart (source: CoinStats)
The Fisher transform has shifted over its signal line with a value of -1.06, indicating that the WLD market is oversold and poised for a reversal. This move in the Fisher Transform implies that the selling pressure on WLD may have peaked. Traders and investors may perceive this as a chance to purchase at lower prices, perhaps leading to a market rebound.
Moreover, the rate-of-change rating of -1.90 and rising supports the notion of a possible turnaround in the WLD market. This change implies that the downward momentum is waning, and the trend may shift upward. If the ROC climbs into positive territory, it might corroborate the possibility of a market bounce.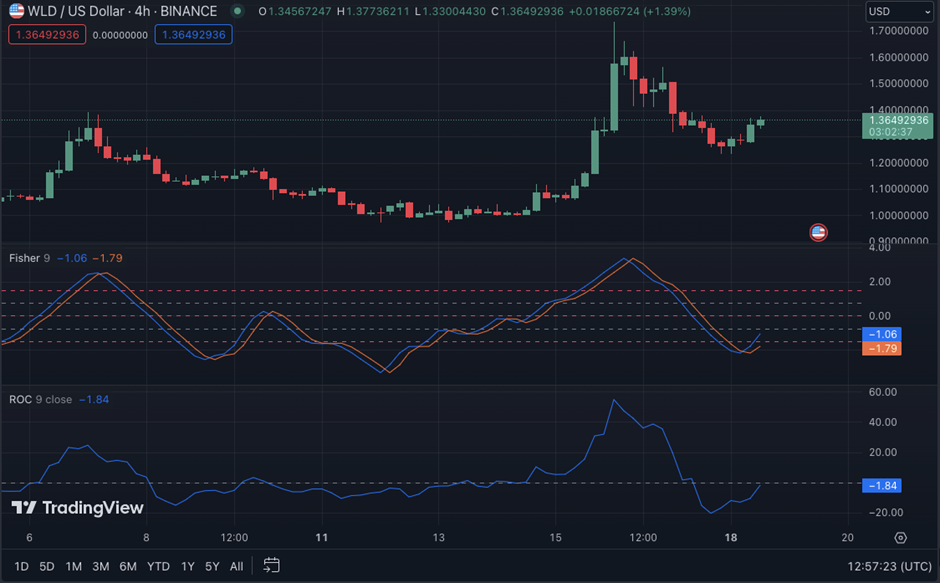 WLD/USD 4-hour price chart (source: TradingView)
Furthermore, the technical rating shows a strong buy signal, indicating that the negative trend may end. This chart adds to the notion of a possible turnaround in the WLD market since it indicates significant purchasing pressure and confidence among traders, which might lead to an upward trend in the market. A positive ROC combined with a strong buy' signal raises the chances of a market comeback.
Moreover, a reading of 56.95 on the Relative Strength Index (RSI) is consistent with a neutral to mildly positive market. While it is less robust than the technical ratings, the WLD market has room to rise. If the RSI moves above its signal line, it indicates a more vigorous positive mood and lends credence to the potential of a market comeback.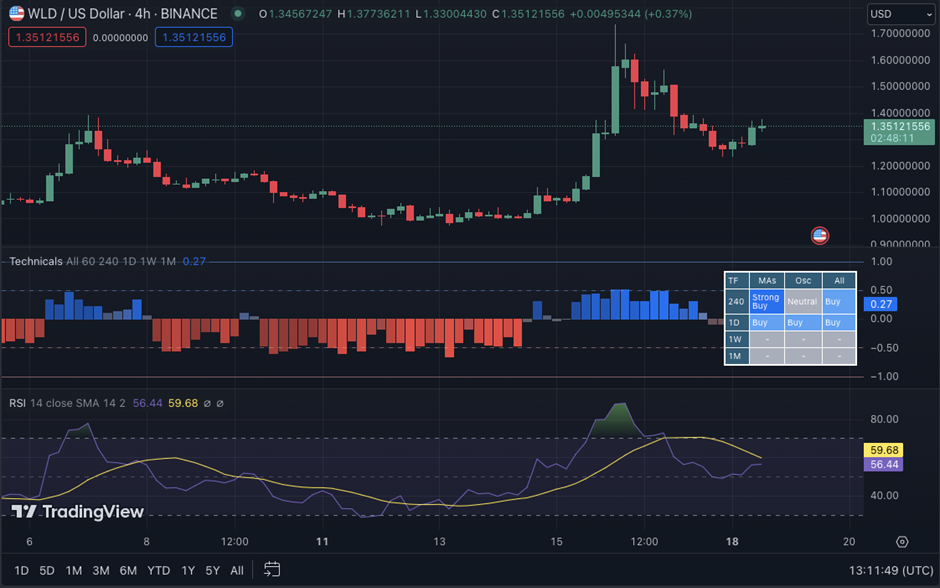 WLD/USD 4-hour price chart (source: TradingView)
In conclusion, while the Worldcoin (WLD) market has faced bearish pressures, there are promising signs of a turnaround. With oversold conditions, a diminishing downward momentum, and strong buy signals, WLD may be poised for a rebound.
Disclaimer: The views, opinions, and information shared in this price prediction are published in good faith. Readers must do their research and due diligence. Any action taken by the reader is strictly at their own risk. Coin Edition and its affiliates will not be liable for direct or indirect damage or loss.