Decentralized Finance (DeFi) protocol Synthetix (SNX) is, by a very large margin, leading the altcoin momentum today. The coin is currently changing hands at a price of $2.49 after soaring as high as 15.24% in the past 24 hours, according to data from CoinMarketCap. For a token that is regarded as a small-cap altcoin, SNX has showcased its grit and readiness to lead the next frontier of DeFi liquidity provisioning.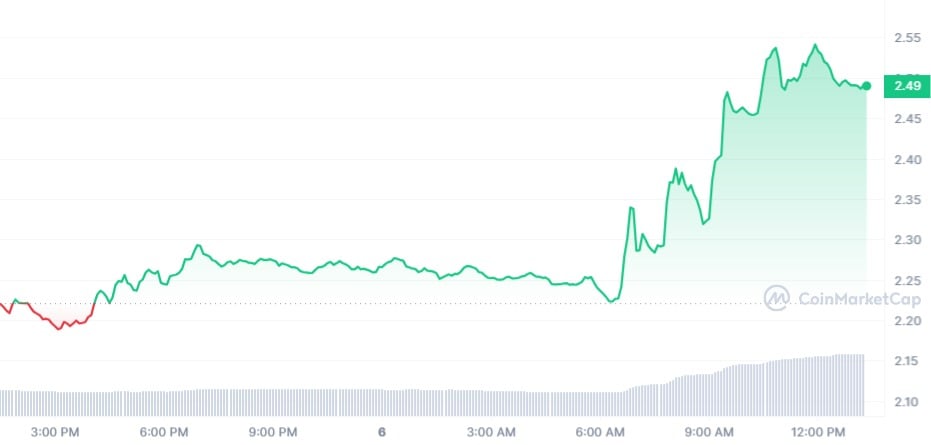 The protocol, dubbed as one of the pioneers of decentralized liquidity providers, has unveiled the emergence of a newer, more advanced and more user-centric version of its entire protocol, dubbed Synthetix V3. For a protocol that has successfully developed and deployed equally innovative previous versions, the positivity toward the future of the protocol is further enhanced.
As teased by the team, the V3 engine will be particularly tailored to revamp the perpetual and derivatives engine for the ecosystem, giving developers additional and enhanced capabilities to develop new solutions that can exploit the V3 codebase. With innovation the defining hallmark of Synthetix V3, a new frontier is bound to be ushered in in the near term.
The sentiment that has trailed the hype surrounding this potential Synthetix V3 emergence has largely fueled the overall buy-up the token has experienced in the past few weeks.
Complimenting Synthetix growth efforts
Synthetix has made a lot of significant effort in the digital currency ecosystem thus far this year as it is not only recording an upshoot in total liquidity value locked but also in its price and market valuations.
Per an earlier report from U.Today, Synthetix has been getting a lot of personalized patronage from industry players, underscoring the goal of keeping DeFi applications highly functional irrespective of market outlook.
The V3 engine is billed to complement its efforts thus far, while setting aside other bottlenecks that can limit its growth.