BTC price bulls are battling to shake off the bearish shackles that confined them between $25,000 and $26,000 following an abandoned attempt to climb back to $30,000 in August. The weak market structure wiped out the gains that had stopped shy of $28,000, bringing Bitcoin down to the price point before Grayscale aced the lawsuit against the Securities and Exchange Commission (SEC).
BTC Price On The Cusp Of A Bull Run
Bitcoin price live price is closing in on its much-anticipated bull run, holding above support at $25,000 but with its upside capped under $26,000. An immediate recovery from this short-term support is highly unlikely due to the lack of momentum to sustain the uptrend.
This means that bulls may have to make peace with letting go of support at $25,000 to allow BTC price to collect liquidity from lower levels, plausibly at $24,000 or $22,000. As discussed in the previous Bitcoin analysis, there's a possibility that Bitcoin might drop to extend the downtrend to $15,500 before the bull market starts.
For now, sideways trading is taking precedence with the Moving Average Convergence Divergence neither showing a bullish or bearish outlook. This momentum indicator flips bullish when the blue MACD line crosses above the red signal line. The uptrend becomes stronger as it trends upward to the mean line (0.00) and into the positive region.
On the contrary, traders gain confidence when shorting BTC as the momentum indicator drops toward the mean line and into the negative region. The blue MACD line must also flip below the red signal line.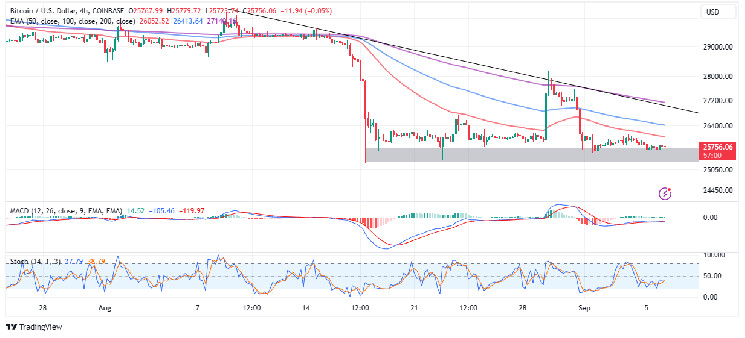 BTC/USD daily price chart | Tradingview
With that in mind, traders must keenly watch Bitcoin's reaction to the support at $25,000, which if lost may trigger a sell-off to $24,000 and $22,000. An opposite reaction would be expected if BTC price climbs above resistance at $26,000. Investors are eagerly waiting for a bullish sign to rally behind the most prominent crypto for gains above $30,000.
Bitcoin Bull Has Started – CryptoQaunt
On-chain data analytics platform CryptoQuant has launched a new metric dubbed the Bitcoin-Bear Market Cycle Indicator which helps investors identify different cycles. According to a post on X, Bitcoin goes through five phases, including overheated bull, bull, early bull, bear, and extreme fear.
"So far 2023 we have progressed from bear, early bull, bull, and overheated bull. We remain in bull phase according to this indicator."
Implemented the Bitcoin Bull-Bear Market Cycle Indicator in CryptoQuant's Analytics tool.

This metric classifies the market cycle in five phases:
?Overheated bull.
?Bull.
?Early bull.
?Bear.
?Extreme bear.

So far 2023 we have progressed from bear, early bull, bull and… pic.twitter.com/4W584nMEak

— Julio Moreno (@jjcmoreno) September 1, 2023
In addition to this tool, Bitcoin goes through the four-year cycles linked to the miner reward halving event. The previous halving took place in 2020 and paved the way for the bull run in 2021, while the next bull is set to occur in April and is expected to launch BTC price into the 2024/2025 bull market.
Investors, especially long-term holders can use these cycles to plan their investments, where they buy during the bear market close to the bottom and sell during the bull market nigh to the peak.
Related Articles
Ethereum Whales Added Over $400 Million In ETH, Will Price Action follow?
Coinbase Founder Adds Web3 LinkedIn To His List Of Crypto Startup Ideas
Crypto Prices Today: Pepe Coin, ASTR, And Solana Show Upward Price Movements