XRP is on another trading range restriction to further extend its week-on-week losses post-ruling. XRP, at the time of writing, is changing hands at a price of $0.5, down by 0.36% in the past 24 hours. With the XRP price receding from its weekly high of $0.532, new data from crypto analytics platform Santiment has revealed that the coin is recording a corresponding slump in its overall user count.
The Santiment data showed that the number of active users has dropped from 539.38K on Sept. 1 to 497.24K at the time of writing.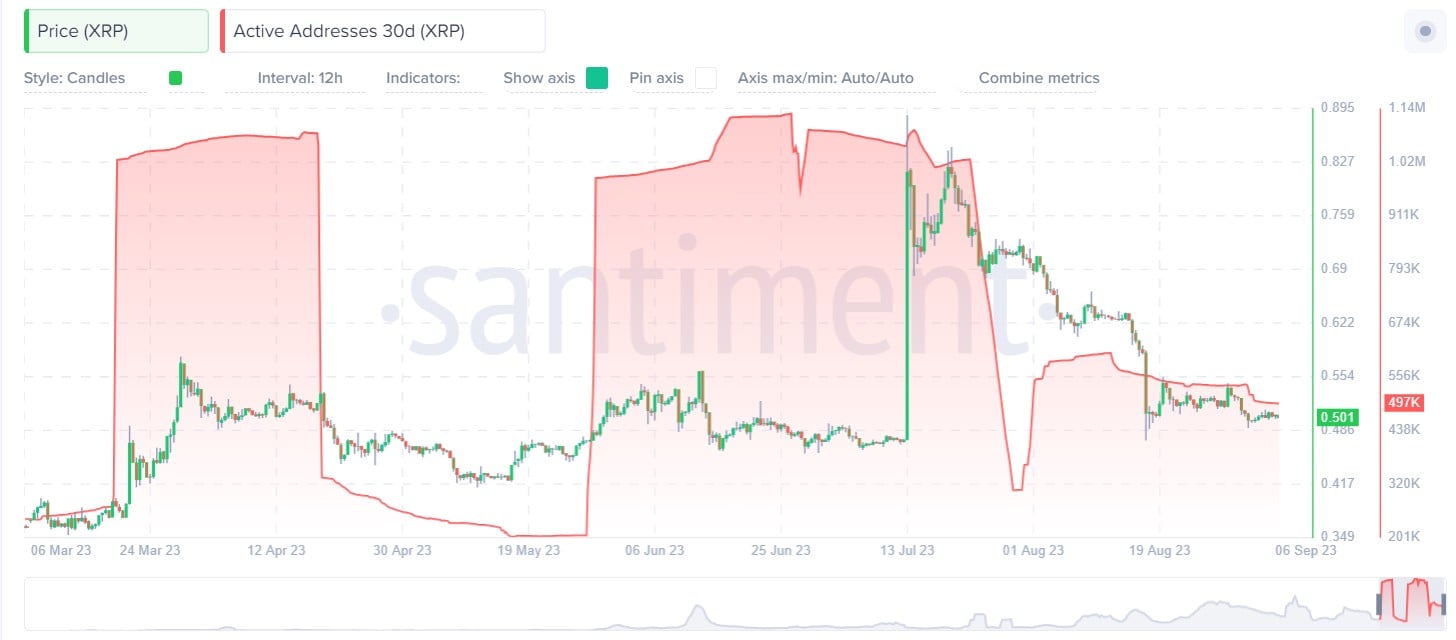 The data is expository and shows a temporary waning drop in transactions in the XRP coin. This sharp drop is an aftermath of reducing interest post-XRP ruling, a trend that underscores people's defined affinity to positivity around the digital currency.
For XRP to maintain its grand luster, the bulls in the coin's ecosystem are plotting another course of action to reboot their interest in the coin. As an integral part of the Ripple and XRPL ecosystem, there is growing demand for the coin as a transaction token for cross-border payments, which is also billed to place positive pressure on the coin's growth tracks.
Multifaceted utility of XRP
Despite the declining user count of XRP, the growing and multifaceted use cases of the digital currency is positivity that is likely to drive the price of the cryptocurrency in the mid- to long term.
To bolster the use case of the digital currency, Ripple has continued to ink advanced partnerships with top firms around the world, including SBI Holdings, as reported earlier by U.Today.
The emergence of XRP Ledger is another conduit for utility redefinition for the XRP coin. With the growth of decentralized finance (DeFi) and non-fungible Tokens (NFTs) on Ledger, XRP is poised to have massive demand that can sustain its growth in the near future.