The crypto market has witnessed several fluctuations, but specific sectors' resilience within this domain remains attractive. Recently, despite a noticeable dip in the broader crypto market, one area seems poised to touch its peak, demonstrating the potential and adaptability within the crypto ecosystem, per a report.
Liquid staking, a sector that facilitates rewards for token pledges supporting blockchain operations, shows signs of resurgence. This re-emergence occurs despite an overarching downturn in crypto assets.
Related Reading: Lido (LDO) Price Inks Gains Alongside TVL Rise – What Traders Should Expect
Recovery Amid Crypto Crisis
According to Bloomberg, citing data from DefiLlama, there is a roughly 292% surge in assets secured in liquid staking services, reaching a monumental $20 billion from a low in June 2022. This ascent is all the more significant considering the broader crypto slump during that period.
Bloomberg noted a recovery in liquid staking's position as "the titan of decentralized finance (DeFi)." Thanks to blockchain-based automated software, this crypto framework enables individuals to trade, borrow, and lend without intermediaries.
Notably, once the crown jewel of DeFi applications, liquid staking has overtaken lending. Protocols specialized in liquid staking, such as Lido and Rocket Pool, witnessed their zenith in April of the previous year.
They amassed assets slightly exceeding $21 billion. However, this momentum was disrupted by the destabilization of TerraUSD, leading to a massive $2 trillion setback in the crypto market.
Despite the gloomy overtones in the crypto sector, where major tokens and a majority of DeFi services are yet to recover from the blows of 2021 and 2022, liquid staking stands out, showcasing a comeback, as seen in the chart below.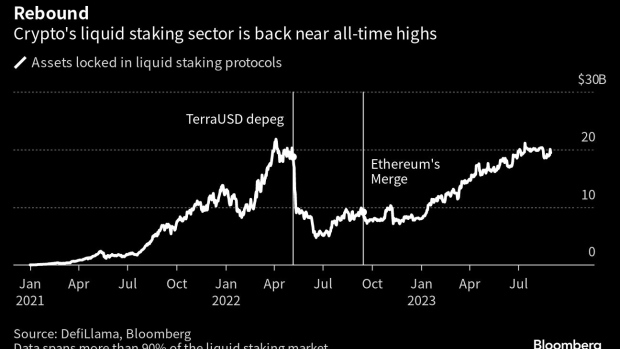 Global Regulatory Stance On Staking
Liquid staking plays a pivotal role, especially in the Ethereum blockchain. It offers a mechanism where users can stake their tokens and, in return, receive a liquid token representing their staked amount.
This process allows users to participate in securing the network while maintaining liquidity. Simply put, they can earn staking rewards without locking up their assets, ensuring flexibility and maximizing potential gains.
Kunal Goel, a research analyst at Messari, parallels these services to "the on-chain equivalent of government bonds." The analyst elaborates that while these aren't devoid of risks, they exude a comparatively lower risk profile and, thus far, have remained untainted by hacks or exploits.
This resurgence in liquid staking doesn't go unnoticed and has been juxtaposed with regulatory decisions concerning crypto globally. The US, for instance, has intensified its regulatory lens on the crypto sector, especially on staking products.
Related Reading: Rocket Pool (RPL) On 4-Day Bullish Streak After Shapella, Can It Make A Fifth?
Such measures prompted key players like Kraken and Bitstamp to halt their regional staking products. Richard Galvin, co-founder at DACM, noted:

The regulatory crackdown around staking products offered by centralized exchanges has definitely helped liquid staking.