Litecoin (LTC) bears have regained control after a short price increase towards $0.70 triggered by Grayscale's groundbreaking victory against the SEC. Analysts examining on-chain data are assessing whether bulls have enough strength to absorb the increasing selling pressure.
Possible Increase in Selling Pressure on Litecoin!
With the price dropping below $63, Litecoin (LTC) is currently trading at its lowest level since November 2022. Amidst rising costs and declining profitability, LTC miners may intensify the downward pressure in the coming days. The recent price increase resulting from the positive Grayscale decision did not affect the decline of Litecoin miners. Data obtained from IntoTheBlock indicates that they intensified selling frenzy in September.
As of September 4th, the cumulative balance of LTC miners' reserves is currently at 1.98 million. This represents a decrease of 540,000 LTC from last month. Miners' Reserves track real-time changes in the wallet balances of recognized miners and mining pools. The 540,000 LTC decrease compared to current market prices could mean that miners sold cryptocurrencies worth $34 million last month.
The timing of the depletion of miners' reserves also indicates that the Halving event on August 2nd may have triggered the selling frenzy. Unless the trend changes, Litecoin's price may show a downward trend towards $50. Another critical on-chain metric indicating more challenging times for LTC holders is the current increase in transaction volumes. While the price has been dropping rapidly, Litecoin's transaction volume has steadily increased over the past two months.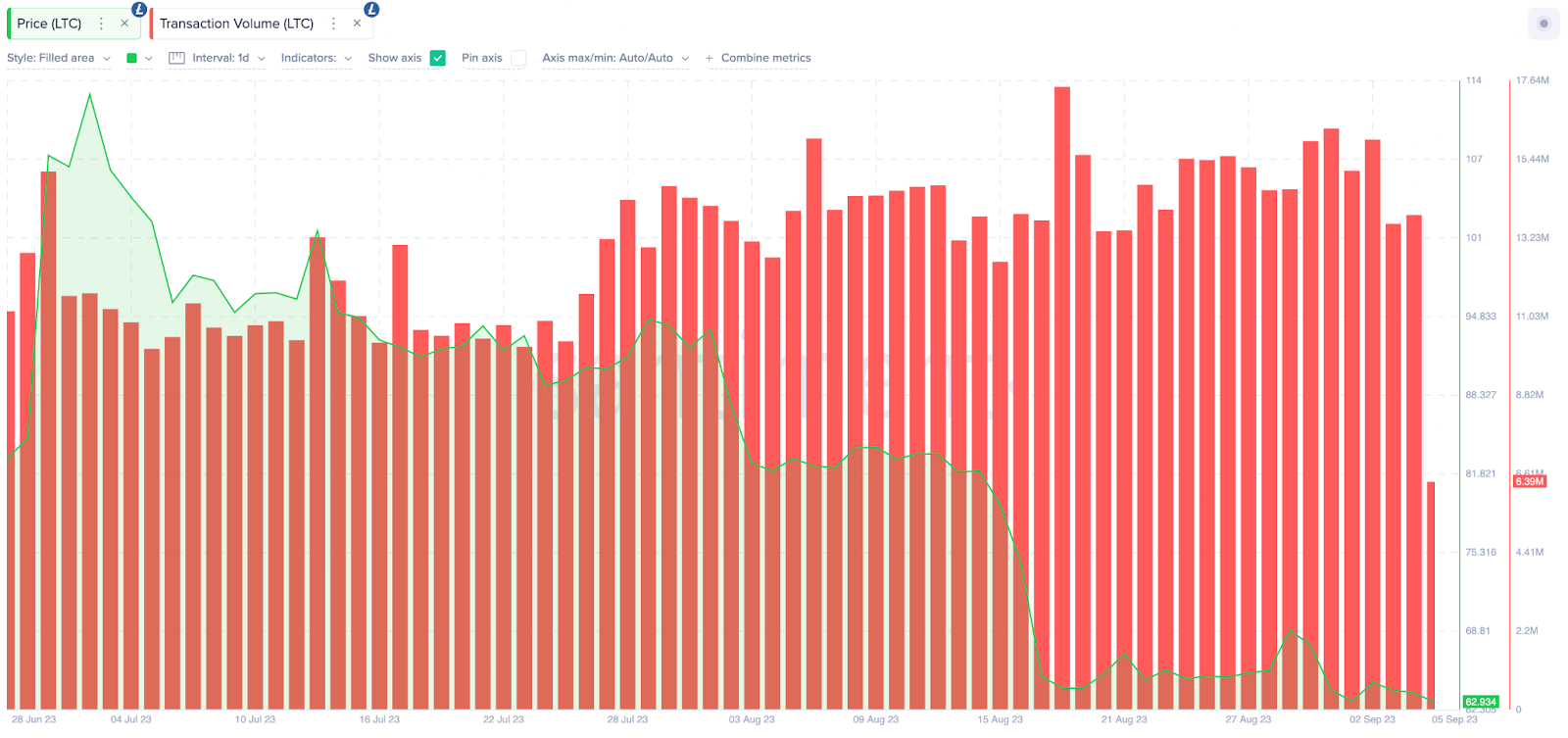 Increasing Transaction Volume on LTC!
Between July 1st and September 4th, transaction volumes increased from 11.61 million LTC to 13.88 million LTC, representing a 20% increase. Meanwhile, Litecoin's price dropped by 41% from $107 to $62.93 during this period. This creates a negative discrepancy between Litecoin's price and trading activity. Typically, increasing transaction volumes indicate increased liquidity or interest in the underlying asset, which are positive developments.
However, the simultaneous price decrease may indicate that selling pressure on Litecoin outweighs buying pressure and leads to price drops. As a result, the continuous decrease in miners' reserves can potentially intensify downward pressures in the coming days.