At the start of the week, the price of the world's largest cryptocurrency by market cap, Bitcoin (BTC), to around $26,000. This was despite the asset reaching $28,000 after digital asset manager Grayscale triumphed over the US Securities and Exchange Commission (SEC). But what will September have in store?
BeInCrypto's editors collected investor opinions on Bitcoin's future price action in the review below.
Bitcoin Price Expected to Enter Growth Phase After Halving
According to trader and analyst Doctor Profit, the recent rally following the Grayscale ruling should not be taken as a sign that Bitcoin is moving into the growth phase. According to his calculations, Bitcoin will enter a positive rally after the 2024 halving.
What is the Bitcoin halving, and how can you benefit from it? Read more here.
By this time, the trader noted, regulators in the United States may approve one or more long-awaited Bitcoin exchange-traded funds (ETFs). The approvals of applications from Grayscale, BlackRock, and others may spark inflows into the digital asset market, he noted.
He emphasized that September is the worst month in the calendar year for Bitcoin and the crypto market. This time around, he argues, it will be no different.
At the start of the month, Doctor Profit expects Bitcoin's price to follow a sideways movement. A rise in Bitcoin volatility will accompany the release of the latest inflation data for the US on Sep. 13, 2023.
The US Federal Reserve will make a decision on whether it will hike or pause interest rates when it meets a week later. Any future rate increases may hurt Bitcoin, which is considered a high-risk asset.
Do you want to know the secrets of surviving a crypto bear market? Read our field guide here.
Doctor Profit's forecast does not exclude the possibility of a decline to $24,000.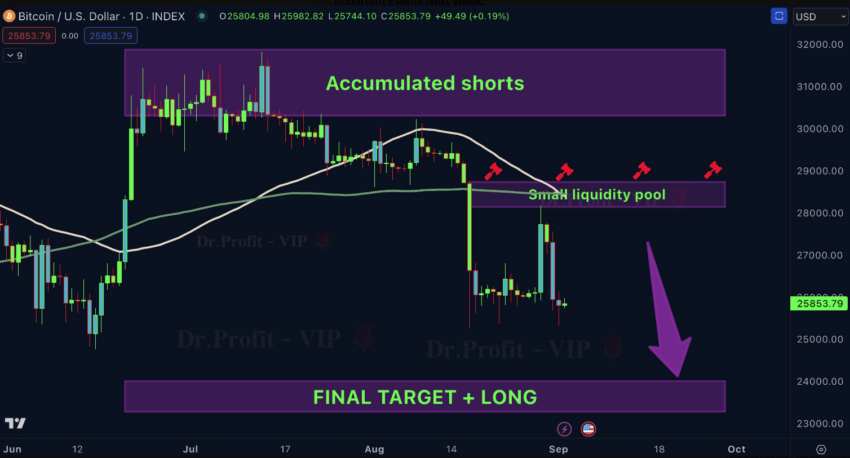 Bitcoin price forecast from Doctor Profit | Source: X (Twitter)
BTC Withdrawals Signal Trust in Asset
Popular analyst PROFIT BLUE offered a similar forecast, predicting that investors will see Bitcoin fall to $24,000. In the meantime, members of the crypto community should heed positive signs.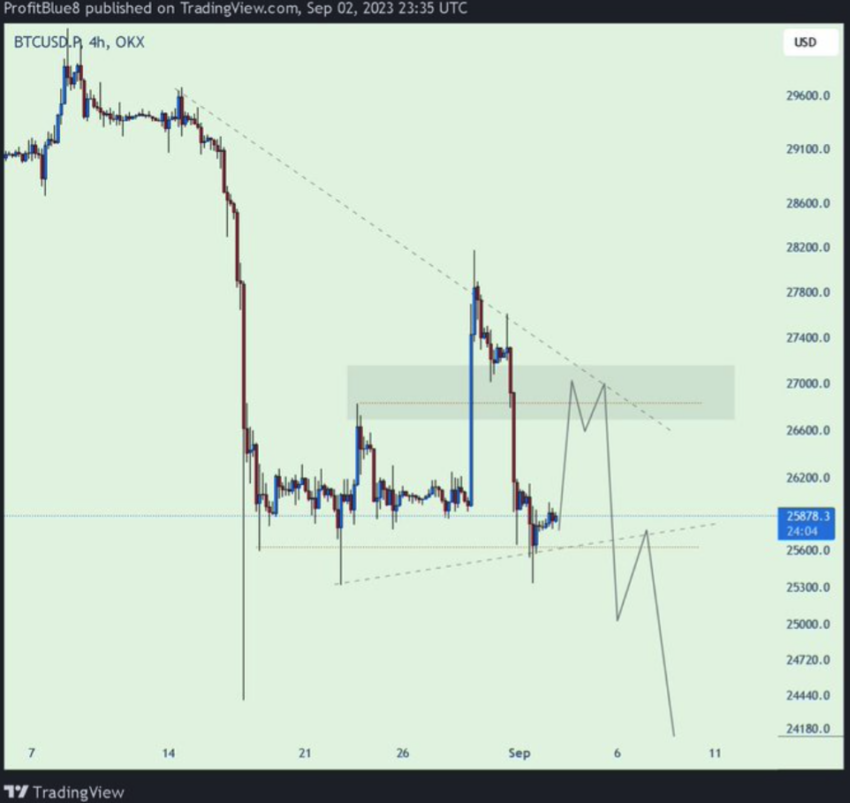 Profit Blue's Bitcoin price forecast | Source: X (Twitter)
BTC withdrawal volumes from exchanges have exceeded deposits in the last three months. The data indicates investors are not ready to part with crypto. A lower number of sellers can prop up the asset's price.
The BeInCrypto team recently collated the forecasts of several altcoins for September.