Axie Infinity, one of the top play-to-earn (P2E) blockchain-based games, has witnessed a decline in its native token, AXS, in line with the general market. These losses have resulted in token holders recording significant losses, reaching new highs.
In particular, data by the cryptocurrency analysis platform IntoTheBlock and shared by analyst Ali Martinez on September 1 indicates that 99.54% of AXS addresses are currently in a state of loss.

It's worth noting that AXS was among the best-performing assets in its category during the crypto bull run. However, the current price trend suggests waning confidence among investors.
Indeed, AXS initially succeeded due to its first-mover advantage when it successfully executed a working game tokenomics within a blockchain-based ecosystem. Notably, the current profitability data will likely impact AXS user activity; however, such occurrences are common during a bear market.
AXS positive onchain metrics
Interestingly, despite the drop in profitability, AXS continues to exhibit positive on-chain metrics. For instance, according to the crypto analysis platform Dapp Radar, as of September 5, AXS has registered a growth of over 30% in terms of transactions over the last 30 days, reaching a total of 1.5 million.
In the interim, the platform relies on network activity to generate interest that may lead to positive price movement. An example of this strategy is the platform's reintroduction of its Streamer Rewards Program.
Axie Infinity relaunched this program following its initial test pilot in February, during which approximately 200 Axie creators collectively logged over 1,500 hours of streaming. To boost engagement, Axie Infinity increased the total prize pool from 300 AXS to 600 AXS.
Despite the bearish outlook, investors remain optimistic about the high-growth potential of Axie Infinity's cryptocurrency.
Meanwhile, a review of AXS's price performance reveals short-term gains, with the token rising by more than 1% in the past 24 hours, trading at $4.55 at the time of writing. However, the token has experienced a nearly 10% decline over the last seven days.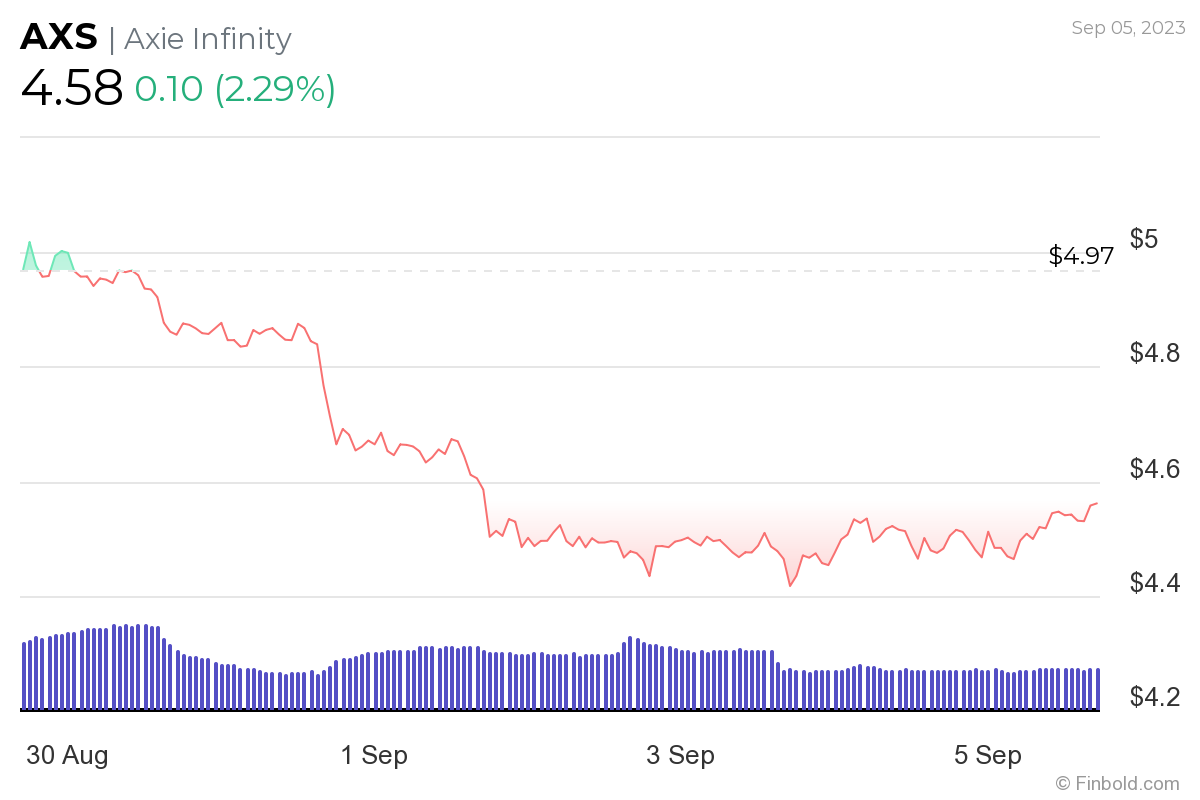 Given its current status, the data suggests that Axie Infinity faces a significant challenge in returning to its all-time high. Nonetheless, as a pioneering force in the 'play-to-earn' movement, the project occupies a unique and enduring position that should not be easily disregarded.
Disclaimer: The content on this site should not be considered investment advice. Investing is speculative. When investing, your capital is at risk.