Polygon (MATIC) price hovers around the $0.55 territory – its lowest in 2023. However, on-chain data reveals that whale investors have started to make noticeable moves. How will MATIC Price react in the coming days?
On August 28, Polygon Co-Founder Nailwal Sandeep issued a vital update regarding the "technical upgrade" from MATIC to a new "POL" token. Events that followed signal that whale investors have reacted positively to this update.
MATIC Whales Entered $25M Buying Spree After Founder's Update
On August 28, Nailwal issued a tweet describing the process and potential utility users can derive from migrating to the proposed POL Token. Within 24 hours of the post, MATIC whales entered an accumulation frenzy, ignoring the prevailing bearish price trend.
The Santiment chart below illustrates that a group of crypto whales with balances of 1 million to 100 million started buying around August 29. Specifically, between August 29 and September 4, they added 47 million MATIC tokens to their holdings.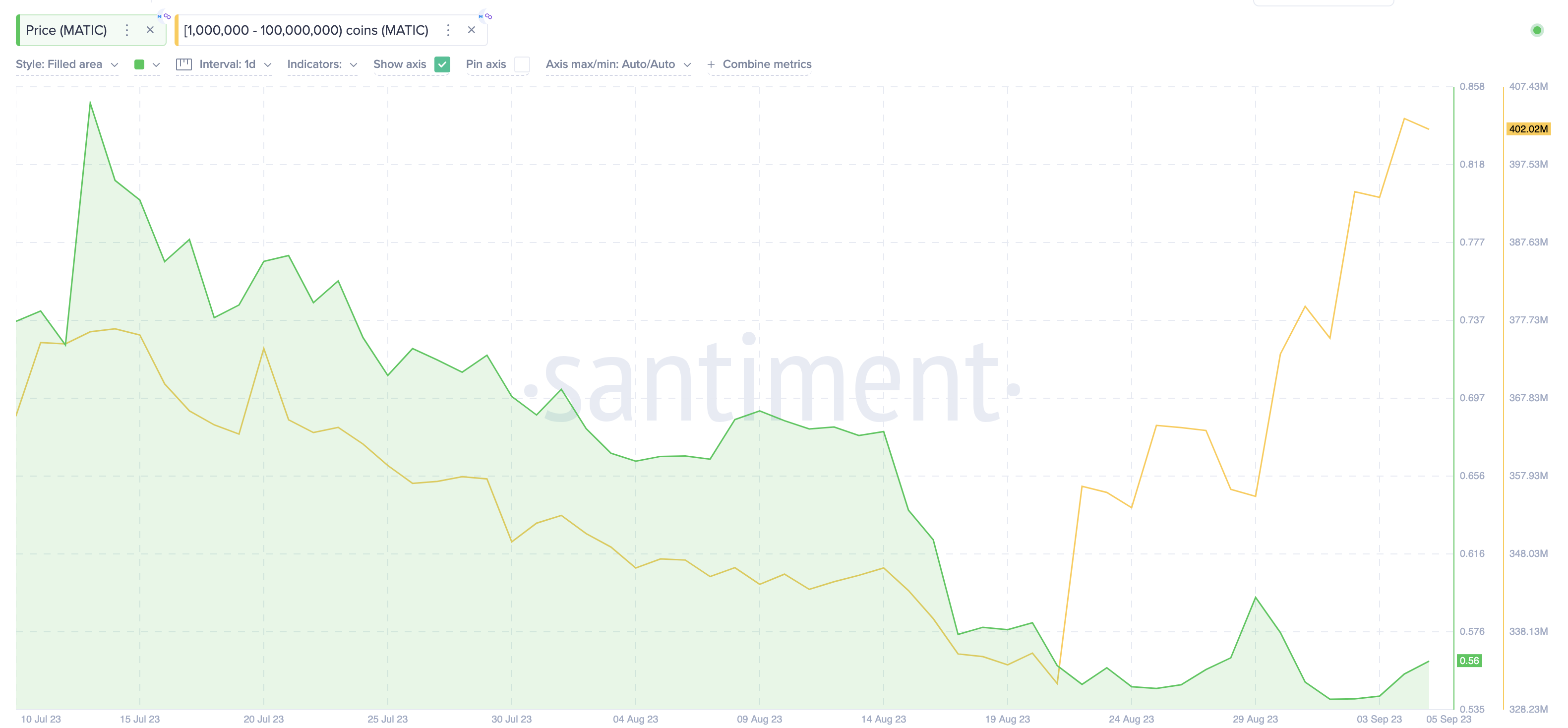 Will Polygon (MATIC) Price React to Whales' Buying Spree | Whales Wallet Balances, Sept 2023. Source: Santiment
The newly-acquired 47 million MATIC is worth approximately $25.85 million at the current market value of $0.55. Increasing balances of whale wallets signal that large institutional investors are taking bullish positions on MATIC.
The timing of this buying spree also suggests that the Nailwals' recent update on the POL token migration may have boosted their whales' confidence.
Notably, with the recent buying frenzy, the whales have increased their cumulative wallet balances to an all-time high of 402 million MATIC. However, it still remains unclear if Polygon retail investors will key into this conspicuous show of optimism.
Crypto investing, simplified. Get MATIC price predictions here.
Polygon Retail Investors Are Still Missing in Action
While whale investors have been making new acquisitions worth millions of dollars, Polygon retail network participants do not currently share that optimism. Indicatively, Polygon's daily Active Addresses have not recovered since the altcoin market crash on August 17.
The Glassnode chart below shows that Polygon hit 1,989 Active Addresses on August 17 and has continued dropping to new lows. As of September 4, only 1,499 wallet addresses interacted on the Polygon network, showing a 25% drop in network traction from August 17.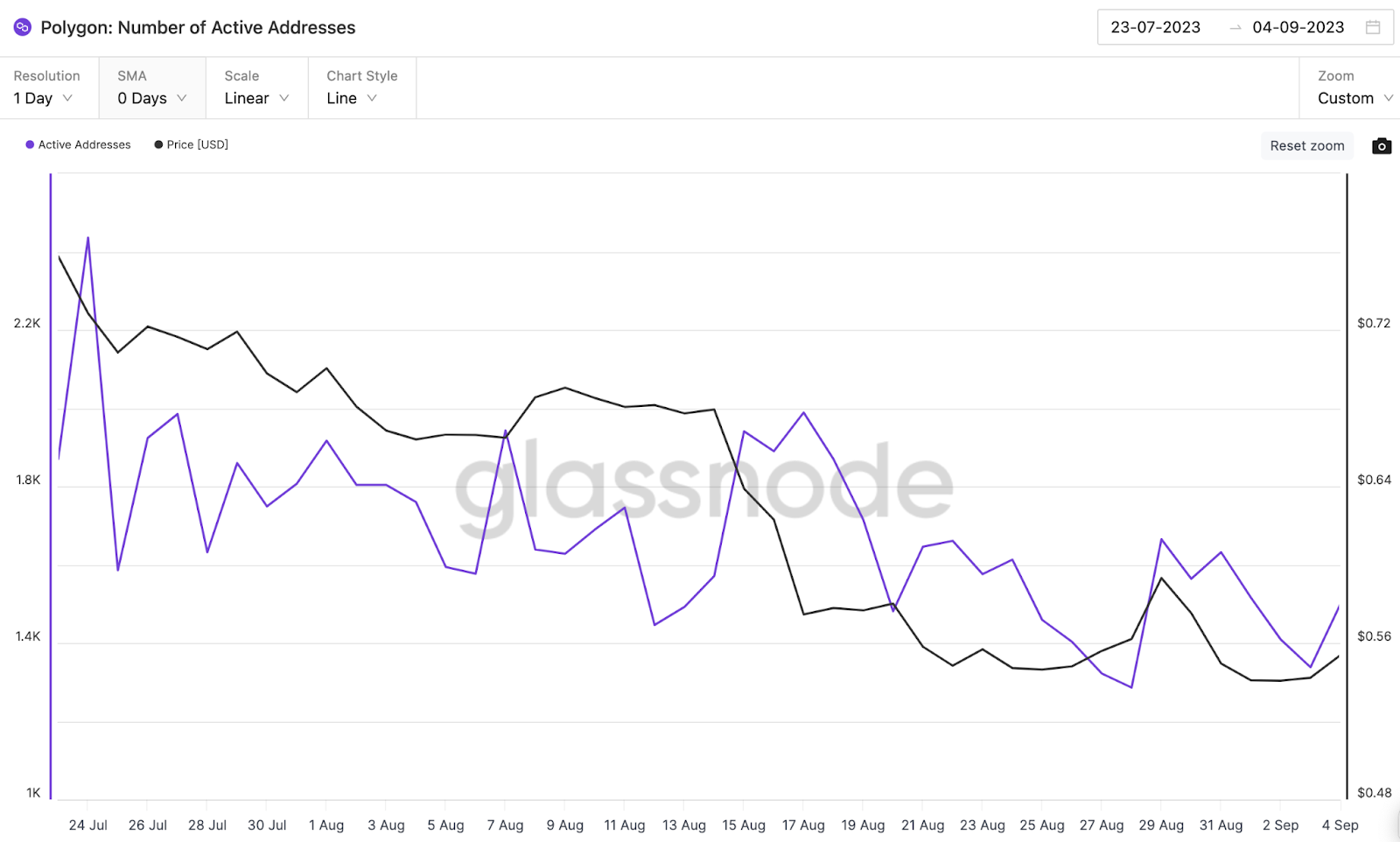 Will Polygon (MATIC) Price React to Whales' Buying Spree | Daily Active Addresses, Sept 2023. Source: Glassnode
The Active Addresses metric tracks retail participation rate by aggregating the number of unique wallet addresses carrying out transactions daily. As observed above, the persistent decline in Active Addresses suggests that retail investors have been shying away from MATIC in recent weeks.
Notably, Polygon price action in the past has been closely correlated to movements in Daily Active Addresses. Hence, MATIC price could continue to drop if the whales' bullish stance does not sway the retail investors.
Crypto Glossary: Cryptocurrencies, DeFi, and NFTs
MATIC Price Prediction: Consolidation Below $0.60
Without a significant uptick in retail demand, the chances of MATIC's price breaking above $0.60 in the coming days are slim. However, the whales's buying spree could be enough to prevent a major downswing below $0.54. Hence, MATIC will likely consolidate around the $0.60 territory.
The In/Out of Money Around Price data, which depicts the entry price distribution of the current MATIC holders, also emphasizes this prediction. It depicts that 6,520 wallet addresses had bought 49.5 million MATIC tokens at the maximum price of $0.59.
They could pose significant resistance to a MATIC price rally, especially if the retail demand continues to wane. But if the bullish whales push past that resistance level, Polygon's price could head toward $0.65.

Polygon (MATIC) Price Prediction | IOMAP data, Aug 2023 | Source: IntoTheBlock
Yet, if the retail demand continues declining, MATIC's price could drop below the $0.50 range. Although 5,570 addresses had bought 108 million MATIC at the average price of $0.54. They could mount a massive buy wall to cover their positions,
But if that support level cannot hold, MATIC's price could eventually drop below $0.50 for the first time since May 2022.
Learn to trade : What are Moving Averages in Crypto Trading?