Blockchain gaming project Gala Games (GALA) has been at the center of controversy lately following a lawsuit between the co-founders. On August 31, co-founder Write Thurston was sued by CEO Eric Schiermeyer for stealing about $130 million worth of the token from the project's treasury.
Schiermeyer, in his suit, accused Thurston of stealing the tokens through his investment firm True North United Investments in 2021. In a countersuit, Thurston, through the True North firm, filed a lawsuit against Schiermeyer.
All in on GALA
Thurston claimed that Schiermeyer wasted millions of dollars in company assets" and also borrowed money from the project's funds for personal use like real estate and other luxury. Following the development, the price of GALA tanked.
At press time, the gaming token had lost 17.22% of its value in the last seven days. Meanwhile, the Crypto Banter YouTube channel weighed in on the matter. The channel looked at Schiermeyer's public defense on X (formerly Twitter) where he said he was all in on GALA while posting a wallet containing $900 worth of the token.
I've received a number of requests asking that I reassure everyone about the current state of Gala and the lawsuits recently files by myself and Wright Thurston. The legal matters are between the two of us. The company is not a defendant in the case.

And to be very clear the…

— benefactor (@Benefactor0101) September 4, 2023
Schiermeyer also said he was running 7,000 GALA nodes and was extremely bullish on the token's future. While Crypto Banter opined that the litigation could get messy, he also mentioned that a resolution could prove to be favorable for those who may decide to accumulate GALA at $0.15.
Retracement on the Radar?
From the 4-hour GALA/USD chart, selling pressure had overtaken the market structure. Also, the Bollinger Bands (BB) indicated that GALA's volatility had increased as the bands expanded. The lower band of the BB touched GALA at $0.15, indicating that the token was oversold.
So, if any sort of buying pressure appears, it is likely that GALA will rise. However, it may be difficult to reach as high as $0.19 in the short term. The Relative Strength Index (RSI) also showed how oversold GALA was.
At the time of writing, the RSI was 26.06. Since the RSI value was less than 30, it means that there was no sign of demand for the token. As a result of this, GALA's momentum remained largely bearish.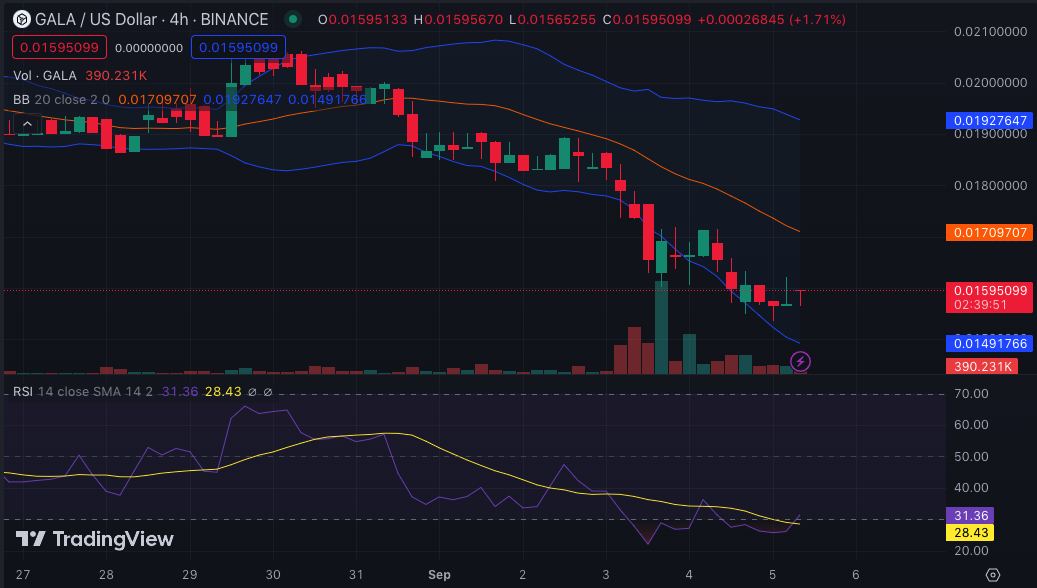 GALA/USD 4-Hour Chart (Source: TradingView)
In conclusion, if Schiermeyer and Thurston settle their differences, it is possible that the project will return to it progressive path it was before. Also, the price of GALA may increase. However, if the parties refuse to shield their swords, then GALA might capitulate again.
Disclaimer: The views, opinions, and information shared in this price prediction are published in good faith. Readers must do their research and due diligence. Any action taken by the reader is strictly at their own risk. Coin Edition and its affiliates will not be liable for direct or indirect damage or loss