Katie Stockton, the founder and managing partner of research firm Fairlead Strategies, has warned that Bitcoin (BTC) bulls could be disappointed due to a monthly technical indicator signaling a drop from overbought levels.
Stochastic Indicator Signals a Downturn in Bitcoin
The Stochastic Indicator, developed by George C. Lane in the 1950s, recently surpassed 80 for Bitcoin, indicating a loss of upward momentum. The indicator moves between 0 and 100, with levels above 80 indicating overbought conditions and levels below 20 indicating oversold conditions. The reversal from overbought levels represents a decline from overbought levels, indicating a weakening of upward momentum.
Katie Stockton confirmed the downturn from overbought levels in the monthly timeframe Stochastic Indicator for Bitcoin at the end of August. She said, "The decline suggests that the formation of a bottom process could be extended, especially considering the protrusion of the monthly cloud model, which increased resistance from the weekly cloud model (approximately $31,900)."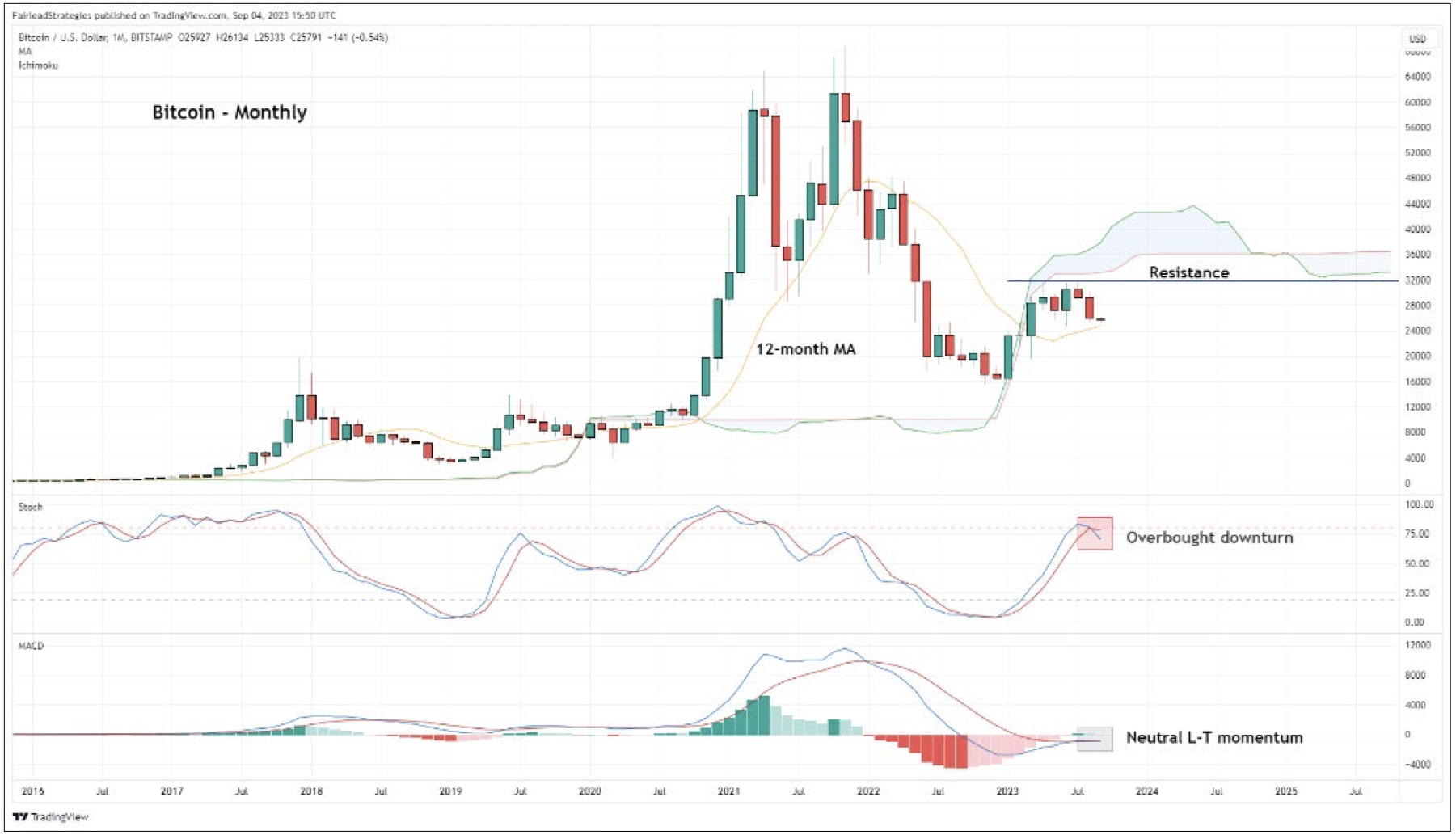 Stockton's negative comment refers to Bitcoin's inability to repeatedly surpass the level known as the "cloud resistance" at $31,900 in the past few months, indicating the formation of a prolonged topping or bottoming process. Stockton warned that this could be a setback towards a long-term reversal. Previous overbought declines in early 2021 and December 2017 were indicative of major price peaks.
"MACD Indicator Still Not Positive"
The monthly MACD histogram, a indicator used to measure trend strength and changes in trend, is moving flat near zero, indicating a neutral long-term trend. Crosses above zero indicate an uptrend in momentum, while drops below zero represent a change in downtrend. Stockton noted that the indicator hit bottom a year ago and has yet to turn positive, stating, "It indicates that a sustainable uptrend is not yet in place."
Stockton added that the nearest important support level for Bitcoin is at $25,200 and the 50-day simple moving average at $28,200 is a key resistance level.