After the recent launch of the layer two scaling solution, Shibarium, within the Shiba Inu (SHIB) ecosystem, the meme cryptocurrency community has turned its attention toward the token's growth potential.
In a recent development, Shytoshi Kusama, the lead developer of Shiba Inu, has stressed the critical importance of increasing adoption for the meme coin's future success, emphasizing the need to move away from relying solely on token burns.
As disclosed by Shibarium Marketing Strategist Lucie in an X (formerly Twitter) post on September 4, the discussion took place within a Telegram group dedicated to Shiba Inu enthusiasts.
During this conversation, one member sought clarification from Kusama regarding token burns within the SHIB ecosystem. Kusama's response shed light on the developer's perspective, making it clear that while token burns are a significant factor, they should not be considered the sole catalyst for enhancing the value of SHIB.
"Burns will not and are not the end all be all. We absolutely must increase adoption. <…> But burn portal is in the works," Kusama stated.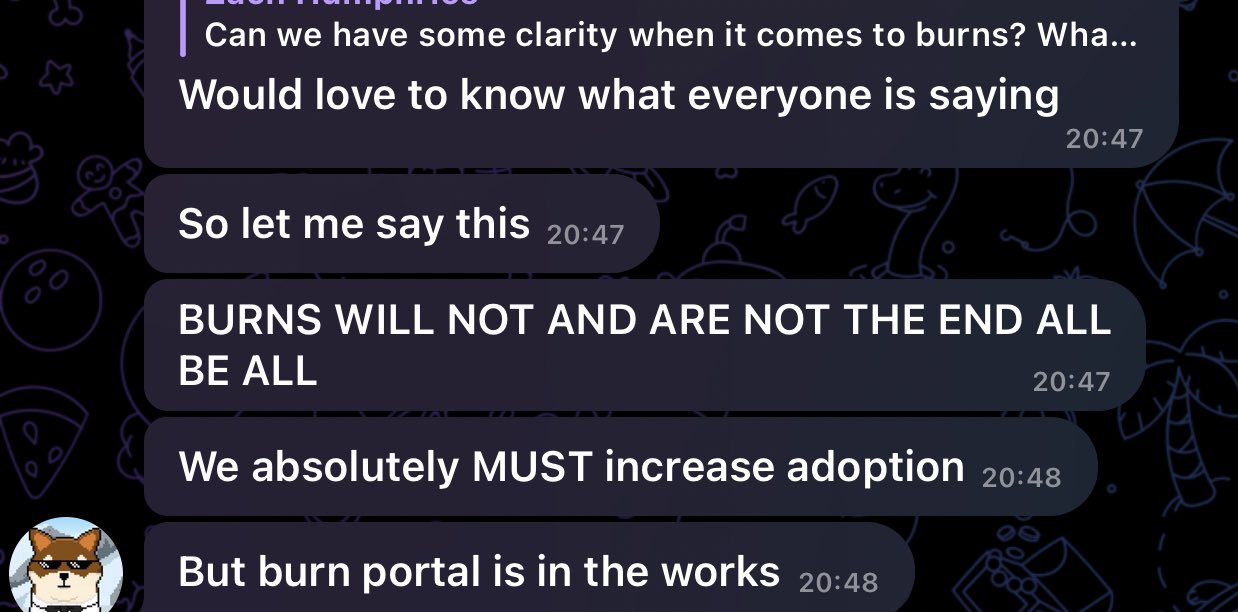 Potential impact on SHIB's price
Kusama's statement has caught the attention of many SHIB investors and community members who had potentially pinned their hopes on token burns to significantly alter the fate of the meme coin.
In the past there has been widespread anticipation of increased token burns, leading to a potential upswing in SHIB's price. However, Kusama's remarks underscore the fact that the true potential of the asset's value lies in widespread adoption. The need to increase token burns was meant to reduce the supply of SHIB, which has been touted to be a key driver in the asset's price trajectory.
Indeed, over the years, the Shiba Inu ecosystem has been working to enhance the token's utility through continuous development efforts. As part of this effort, the token has found applications in various areas, including payments.
Although the Shibarium upgrade initially encountered challenges, the system's low transaction costs and innovative fee structure have the potential to bring about a transformative impact within the SHIB token ecosystem.
Meanwhile, the value of SHIB continues to move in accordance with the broader market sentiment. By press time, SHIB was valued at $0.0000075, reflecting a weekly loss of over 7%. The meme coin is currently having support at $0.00000709 with $0.00000801 as its resistance level.