While platforms such as Binance and Coinbase are recording more XRP buys, exchanges like Upbit and OKX are seeing heavy selloffs.
Analytics research conducted by blockchain data provider Kaiko shows that the increased interest in XRP enabled its average daily trading volume to rise as high as $462.8 million in August.
Notably, this figure surpasses values recorded by other altcoins like Solana's $128.4 million and Binance Coin (BNB) $121.8 million, Doge $113M, LTC $107M, ADA $43.8M. The chart below shows XRP topping the chart of the top 10 altcoins in August.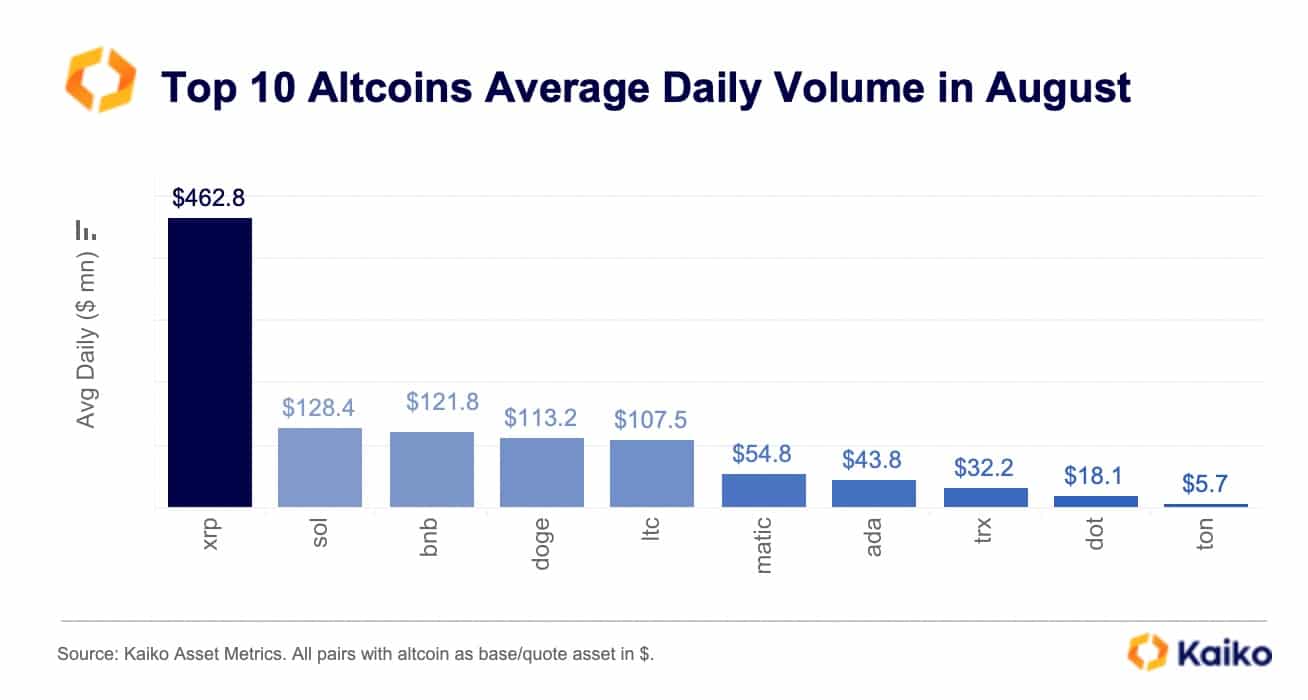 XRP Trading Volume | Kaiko
Since winning a partial court victory in mid-July, global payments company Ripple has seen massive user engagement. XRP, an asset the U.S. Securities and Exchange Commission (SEC) once defined as security, has also seen soaring interest.
The increase is evident in XRP's daily trading volume, which jumped to 4.84 billion XRP on September 1st alone.
Investors Are Selling Off XRP
Amid the steady record seen by XRP, investors on some crypto exchanges like Upbit, Kraken, and OKX are selling off their holdings.
Upbit, the largest South Korean crypto exchange, saw the highest selling pressure by as much as 55%, despite an interest in XRP demonstrated by Korean investors. OKX followed closely with a 54% sell order share.
On the other hand, users on crypto exchanges like Binance and Coinbase are embracing XRP. The leading American exchange, Coinbase, saw the highest buying pressure last month, followed closely by Binance.
While the reason for the sell-off action is unidentified, some market watchers attribute the bearish trend to uncertainty regarding the legal case between Ripple and the SEC, as the regulatory agency seeks to appeal the firm's victory.
Meanwhile, Kaiko identified a growing pattern of buying pressure on Coinbase following the lawsuit victory. According to the report,
"XRP average trade size has also increased on Coinbase, surpassing all top ten altcoins. This could suggest that buying demand was driven by large traders in the U.S. as investors re-gained access to the token after the July court ruling."
Nonetheless, XRP currently ranks as the sixth most traded altcoin in the United States while leading the charge on exchanges outside the country, as affirmed in a recent report by The Crypto Basic.