Cross-chain communications network Synapse has seen its native token price dump following a large removal of liquidity from the protocol. As a result, SYN prices have tanked more than 20% over the past few hours.
On September 5, Synapse Labs alerted its users that a liquidity provider had sold their tokens and removed liquidity.
Nima Capital Dumps Liquidity
The protocol team wrote that a Synapse liquidity provider sold their SYN tokens. Furthermore, this has caused a crash in its prices.
"We're investigating unusual activity on their wallets and are working to get in touch with them. Will update once there is more info."
There was no security breach of the protocol or bridge, it confirmed.
Researcher "Spreek" reported that 'somebody' just dumped 9 million SYN in two transactions with one minute separating them. The value of the tokens at the time was around $3.7 million.
Fellow researcher "Wazz," said that it was Nima Capital, a crypto venture capital firm. "Even VCs are rugging now," they exclaimed.
Nima Capital was designated Synapse's first liquidity partner following a proposal in March. The firm provided $40 million in "actively managed stablecoin liquidity for a 12-month term," according to the proposal.
It appears that Nima Capital has pulled the plug with eight months remaining on its liquidity term.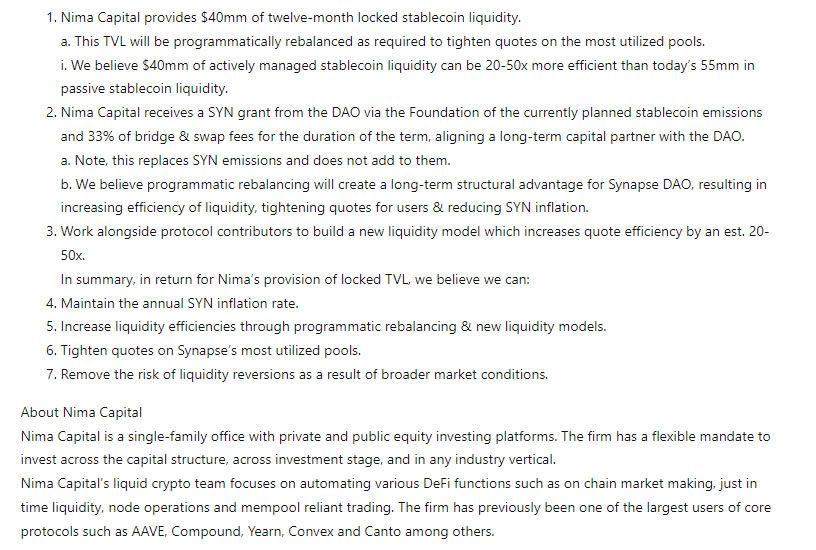 Screenshot from proposal. Source: Synapse governance forums
Furthermore, Nima Capital's website (nimacap.com) had gone offline at the time of writing. The firm's X (Twitter) feed had also been set to "protected," whereby only approved followers can view them.
According to Crunchbase, Nima Capital has made 31 investments in DeFi and crypto. Its most recent investment was in April when Teahouse Finance raised $5 million.
Nima has also invested in NFT developer Flow, Fordefi, Eversify Labs, OneOf, and Morpho Labs over the past year or so. There were very few other details at the time of writing.
Synapse TVL has tanked 20% and is currently $113 million, according to DeFiLlama.
Read more: Exploring DefiLlama: An Extensive Guide to DeFi Tracking
SYN Price Tanks
Synapse token prices fell 24% after the big sell-off a few hours ago. It was trading at $0.410 before crashing to $0.309 during early Asian trading on Tuesday.
At the time of writing, SYN had recovered marginally to trade at $0.339.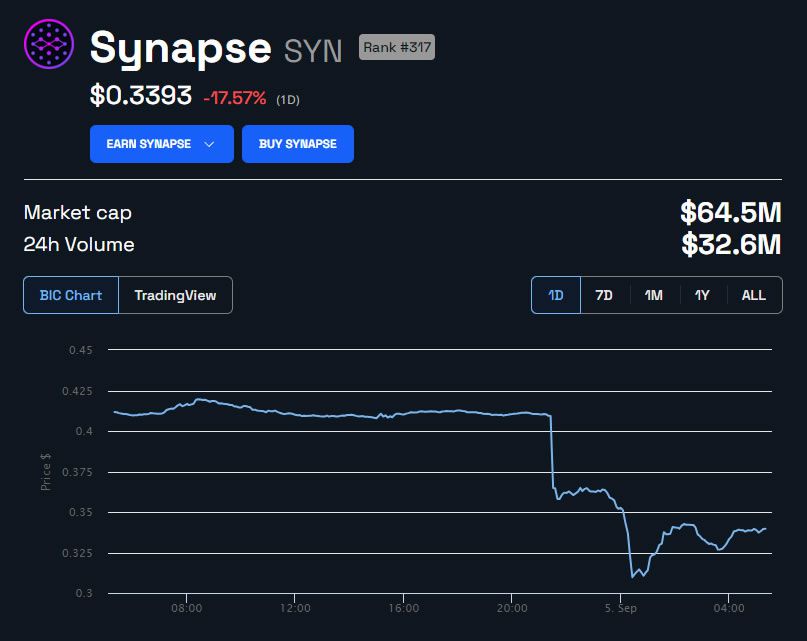 SYN Price in USD 1 day. Source: BeInCrypto
Furthermore, like most DeFi tokens, SYN had already been battered in the brutal bear market. It has lost 40% over the past month and is down 93% from its October 2021 all-time high of $4.92.