Data reveals that the Lightning Network's capacity, or the total value of open channels, has dwindled by over 14% since July 9, 2023. Following a peak of 5,468 BTC, an estimated 786 BTC valued at $20.32 million has been withdrawn from the secondary network.
From Peak to Plunge: Lightning Network's Capacity Drops by Over $20M in Just Two Months
The Lightning Network (LN) serves as a second-layer (L2) scaling solution designed to render bitcoin (BTC) transactions more cost-effective and expedited. In lieu of registering every transaction on the Bitcoin blockchain, LN users establish a mutual "channel" for transaction purposes. Only the opening and closing balances of channels are documented on the blockchain. This year marked an all-time high for LN capacity or the total value locked (TVL) in open channels.
The LN capacity hit 5,468 BTC on July 6, 2023. Nonetheless, subsequent to this milestone, a substantial amount of BTC was removed in one of the largest declines since tracking began in January 2018. Around 786 BTC equating to $20.32 million exited the LN from July 9 onwards, dipping below the 5K BTC threshold after July 10. The existing capacity of 4,682 BTC within the Lightning Network is presently valued at $121 million.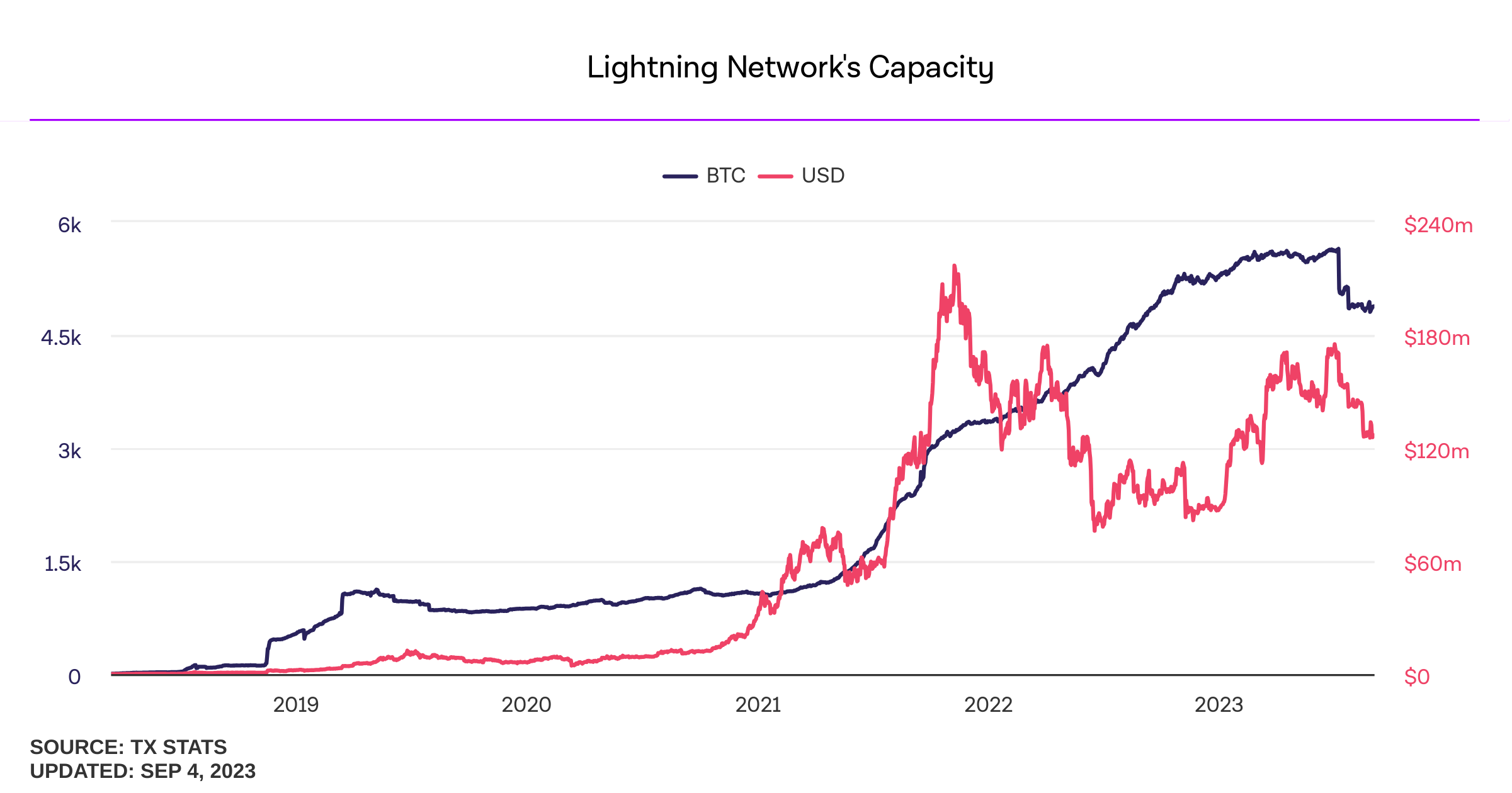 As of September 4, 2023, there are 68,115 LN channels dispersed among 16,232 nodes. In comparison, Ethereum-based wrapped bitcoin (WBTC) had a supply of 156,528 WBTC on June 5, 2023, which has grown to 162,874 WBTC since then. This indicates that within three months, an addition of 6,346 WBTC was made to the supply while it took over five years for the Lightning Network's capacity to reach 5K BTC.
Yet another alternative network created by Blockstream known as Liquid has experienced a capacity decline this year. In March 2023, the Liquid network held 3,556 LBTC, which dropped to 2,736 LBTC by September. This signifies a reduction of 820 tokens in the number of LBTC since March 2023. The reason behind the declines observed in both protocols remains uncertain; however, a combined total of $41.52 million in bitcoin value has been withdrawn from both networks.
What do you think about the Lightning Network's capacity plunging by 786 bitcoin? Share your thoughts and opinions about this subject in the comments section below.