A cryptocurrency named Pepe Coin, characterized by its association with deflationary memes, has been entangled in a controversy involving accusations of insider trading and a substantial misappropriation of tokens. According to insights from an expert knowledgeable in blockchain transactions, known by the name Yazan, the unfolding saga surrounding Pepe Coin has prompted some individuals enjoying privileged access to initiate the liquidation of their PEPE holdings. This series of transactions has led to the sale of a significant quantity, roughly 665 billion PEPE tokens.
Yazan has fervently called upon prominent cryptocurrency trading platforms like Binance and OKEx to take preemptive measures to quell the suspected insider trading practices.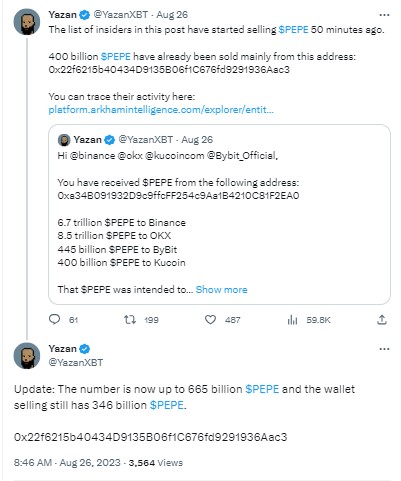 Yazan's statement | Source: X (Formerly Twitter)
Misappropriation and Liquidation of Pepe Tokens
The scenario intensified following a public statement issued by the official Pepe account on social media. The statement detailed the fraudulent transfer of an astonishing 16 trillion Pepe tokens, each with an approximate value of $15 million, to cryptocurrency exchanges, including OKX, Binance, Kucoin, and Bybit. The subsequent sale of these tokens followed, giving rise to the allegations under scrutiny.
Amidst these events, former Pepe currency marketer Jeremy "Pauly" Cahen has brought forth serious allegations surrounding insider trading within the purview of the meme-based currency. Following the unaccounted disappearance of 16 trillion PEPE tokens, Cahen has spotlighted the individuals affiliated with the meme currency, accusing them of participating in insider trading.
Dubbing as "insider trading allegations," Cahen has taken a resolute stand by unveiling the identities of the implicated team members. In a meticulous exposition, he has laid out the intricate web of wallet transactions conducted by each involved member. On-chain analysts have identified a series of notable PepeCoin transactions believed to be orchestrated by insiders within the cryptocurrency sector.
Insider Trading Unveiled
Cahen's disclosures on August 26 shed light on a significant reservoir of 16–17 million PEPE coins held across nine distinct wallets by the Pepe Coin team. Rather than opting for an outright liquidation of PEPE tokens, insiders devised an unexpected tactical maneuver. Gradually unloading tokens from a controlled exchange (CEX) wallet, they assumed a substantial short position. This strategic pivot caught many off guard.
Cohen asserted his intention to collaborate with law enforcement authorities to pursue justice. He vowed to take action against the "pepecoineth" team, whom he accused of disseminating falsehoods within the cryptocurrency community for personal gain. Cahen underscored his resolve to initiate legal proceedings against the implicated "pepecoineth" team.
How is Pepe doing today?
According to statistics provided by Coinmarketcap, Pepe Coin's value has decreased significantly, reaching a current level of $0.0000008 as of press time. The news about Grayscale's win of the case on their ETF proposal created a bullish sentiment on crypto markets, but it didn't get any pace. Currently, there is no significant reasons for PEPE price to grow.