The private funds industry has united to push back against perceived overreach by the Securities and Exchange Commission (SEC), filing a lawsuit challenging expanded oversight of investment advisers.
For years, private equity, hedge funds, and venture capital firms have bristled under SEC regulations they consider unduly burdensome. On September 1, a cohort of influential trade groups took bold legal action, petitioning the US Court of Appeals for the Fifth Circuit to block recently enacted SEC rules.
Private Funds: "Commission Exceeded Its Statutory Authority"
At issue is the SEC's Private Fund Adviser rule, a sweeping 660-page edict imposing new disclosures, auditing requirements, and third-party validation on private funds.
However, the regulation elicited vigorous industry objections even before its adoption last month. The final rules were announced on August 23.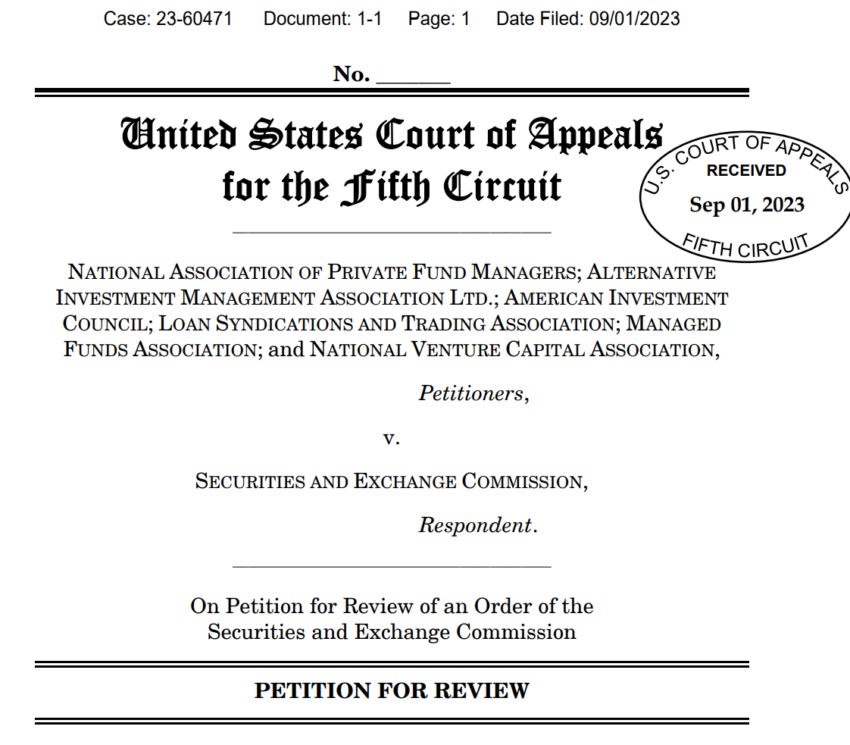 An extract of the court filing, filed on September 1. Source: managedfunds.org
The suit is brought by leaders including the Managed Funds Association, the National Venture Capital Association, and the Alternative Investment Management Association.
It decries the SEC for exceeding lawful authority and crippling investment. It argues the agency bypassed necessary public input while enacting broadly detrimental policies.
According to the filing:
"The new rules would fundamentally change the way private funds are regulated in America… [and] exceed the Commission's statutory authority, were adopted without compliance with notice-and-comment requirements, and are otherwise arbitrary, capricious, an abuse of discretion, and contrary to law."
Specifically, the rules compel quarterly investor reports on performance, fees, and costs. Additionally, annual audits become mandatory for each private fund.
Moreover, advisers must also obtain fairness or valuation opinions for certain transactions.
Manage your assets like a pro with these useful portfolio trackers: 11 Best Crypto Portfolio Trackers in 2023
Placing further constraints on funds, the SEC sets limits on sale practices, conflicts of interest, and compensation models. Limited exceptions exist pending robust disclosures and investor consent. However, the industry maintains these provisions still hinder business operations and deal-making.
Long valuing minimal regulatory interference, private funds now refuse to accept more SEC oversight. They insist it will raise costs, curb competition, and reduce investor opportunities.
In their lawsuit, the plaintiffs contend vibrant private markets are key to economic growth and innovation.
SEC Accused of Regulatory Creep
The legal challenge represents an inflection point as frustrations boil over after years of perceived regulatory creep. The private funds industry is drawing a line against what it calls SEC overreach undermining a vital sector.
For its part, the SEC defends the new rules as consistent with its mandate and authority. Namely, to protect investors and safeguard the stability of financial markets.
The SEC recently brought in new rules for the private funds industry. Source: Bloomberg
As the court battle takes shape, the struggle illuminates the deep divide between regulators and an industry bent on lighter oversight. Ultimately, the lawsuit's outcome will shape the government's role in private markets moving forward.
However, the SEC isn't in a battle with just the private funds industry. The regulator is in a high-stakes fight with the crypto industry over whether its jurisdiction extends to cryptocurrencies and other digital assets.
Recent court losses against Ripple and Grayscale have put the regulator on the back foot. Moreover, industry giants like Coinbase and Binance have indicated they are not prepared to settle their own cases against the SEC and will take their fight to its legal conclusion.
You can read the full lawsuit filed on September 1 here.