Bitcoin has long been the bellwether in the cryptocurrency market, guiding sentiment and market dynamics. But recent metrics reveal an unsettling trend. Indeed, the pioneer digital currency appears to be losing its allure.
Analyzing market data, search trends, trading volumes, and investor behavior reveals an unsettling pattern of declining interest.
Bitcoin Trading Volumes Drop
One of the first alarming metrics that suggest declining interest in Bitcoin is trading volumes.
According to data from CoinGecko, Bitcoin's spot trading volumes for the current quarter total $721.10 billion. It is worth noting that Bitcoin's trading volumes the second quarter of the present year reached $1.25 trillion, marking a potential 14% month-over-month decline.
If this trend continues through September, the quarterly trading volumes could shrink to a level not seen since the first quarter of 2019.

Bitcoin Trading Volume. Source: Santiment
Likewise, Ethereum mirrors Bitcoin, with trading volumes for July and August recording $232.06 billion and $212.92 billion, respectively. Continuing this trend would push Ethereum's quarterly trading volume just over $650 billion, another low point similar to 2019 levels.
Decreased Google Search Traffic
Still, the significant decline in Bitcoin and Ethereum trading volumes is just the tip of the iceberg. Google Trends add another layer of concern.
Organic search traffic for the keyword "cryptocurrency" and "Bitcoin" is back to levels not seen since 2019.
"This is exactly what apathy looks like," said Will Clemente, co-founder of Reflexity Research.
Although Bitcoin's search traffic has remained somewhat stable, the declining trend for the broader term points to reduced public interest. This can be considered a clear influence of investor sentiment.
Read more: Crypto Telegram Groups To Join in 2023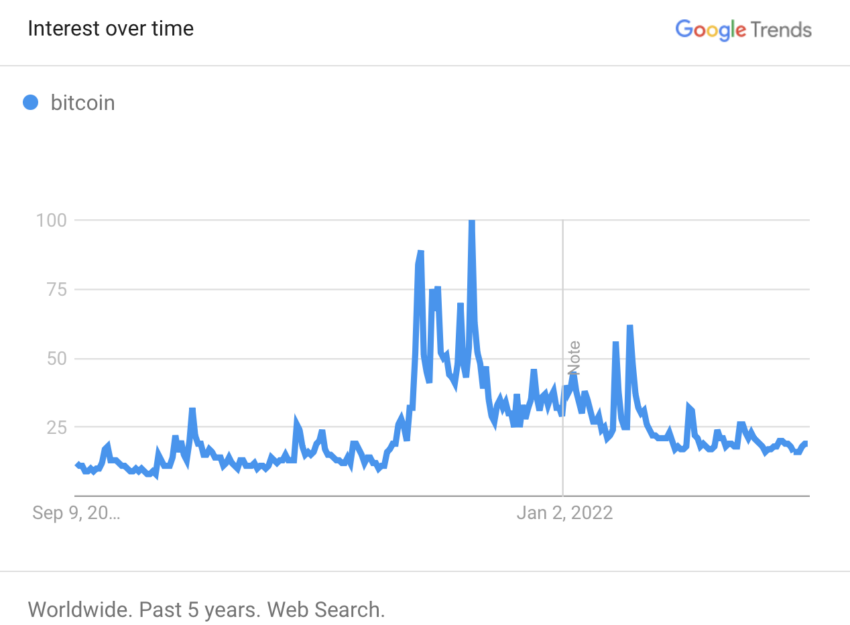 Bitcoin Search Traffic. Source: Google Trends
BeInCrypto's Global Head of News, Ali Martinez, eloquently compared the popularity of top search queries in the industry to the keyword "Uranus" to highlight the waning interest.
According to Martinez, there are more people searching for the plannet Uranus than for Ripple, despite the recent court decision in the lawsuit against the United States Securities and Exchange Commission (SEC).
Low Volatility and Investors Sentiment
More alarmingly, volatility metrics for Bitcoin, historically known for its price swings, remain low.
In a recent report, crypto exchange Bitfinex highlighted that the delta between implied and historical volatility is only 1.3%, indicating market expectations of sustained low volatility.
Read more: What Causes Bitcoin Volatility?
The low volatility environment is further emphasized by Bitcoin Velocity, a metric that acts as a barometer for market activity. The downturn in Bitcoin Velocity signals tepid participation among market players.
Therefore, it suggests a period of watchful hesitancy or consolidation in the crypto industry.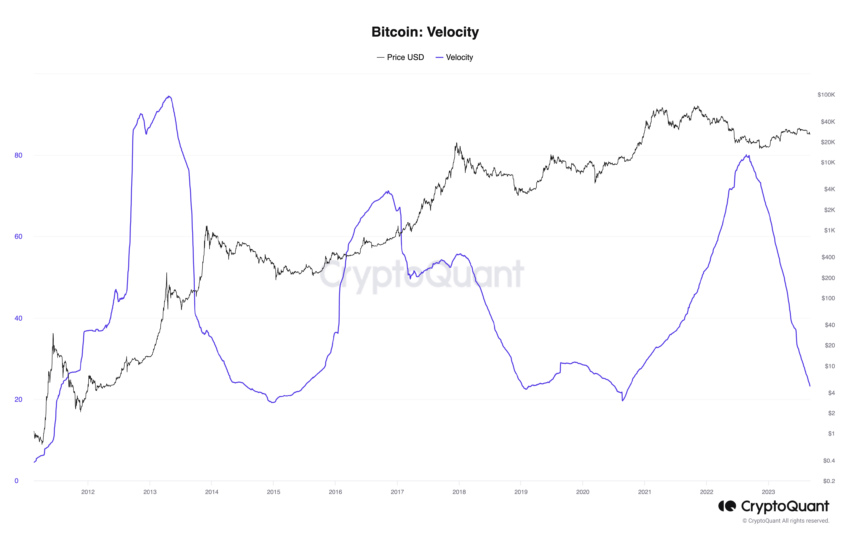 Bitcoin Price Velocity. Source: CryptoQuant
The market is also witnessing a cool-off. Despite higher than average trading volumes of $2.8 billion for the past week, the outflows, totaling $342 million in the last seven weeks, highlight a negative sentiment.
Implications: Bitcoin Future Outlook
Institutional firms like Genesis Trading predict that the future growth of trading volume will likely rely on derivatives, citing "spot market liquidity suffering and spot order book depth chronically flagging." This is no surprise, given the falling trading volumes and investor interest.
With crypto investment product flows cooling off, coupled with the declining trading volumes and waning search interest, it is clear that Bitcoin is navigating a period of uncertainty.
Read more: Bitcoin Halving Cycles and Investment Strategies: What To Know
While Bitcoin might not have entirely lost its luster, these indicators cannot be ignored. It would be prudent for investors to prepare for more downside or sideways movement until a compelling reason for a market rally materializes.
Only time will tell, in light of these metrics, whether Bitcoin will regain its former glory or continue to fade into a period of unsettling calm.