In the midst of the ongoing regulatory challenges, on-chain activities for XRP appear unfazed, reaching new milestones that are likely to impact the token's valuation.
Specifically, data from the crypto analysis platform Santiment indicates unprecedented spikes in XRP's utility metrics, shedding light on a thriving ecosystem. According to Santiment, as of September 2, XRP had reached a seven-month high for on-chain volume, totaling 4.8 billion.
At the same time, the data shows that XRP's circulation had hit a three-month high of 2.03 billion. Alongside the surge in on-chain activity, the behavior analysis platform also highlighted a significant increase in development activity within the XRP ecosystem.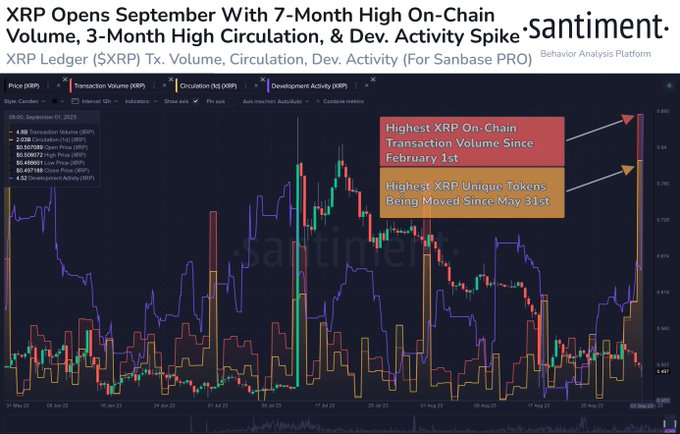 Impact on XRP's price
The significance of these numbers cannot be overstated, as they reflect robust network activity for XRP, signifying increased usage and engagement within the cryptocurrency ecosystem.
Notably, these metrics coincide with a period during which XRP's parent company, Ripple, is still embroiled in a legal battle with the Securities and Exchange Commission (SEC).
It is worth noting that these metrics have also come at a time when the company received a partial victory, as the court ruled that XRP is not a security. Overall, the current on-chain momentum and increased development activity are optimistic signs for XRP's future prospects.
However, it's crucial to note that while the on-chain metrics appear impressive for XRP, the token's long-term valuation will heavily depend on the overall outcome of the legal case. Both parties are gearing up for the second phase, with the SEC having already applied for an appeal and provided trial dates.
In terms of specific price movement, the XRP community is eagerly anticipating the token reaching the critical $1 mark. Notably, this milestone has proven elusive for XRP, even after initial gains following the positive court ruling.
As reported by Finbold, PricePredictions.com, a tool that utilizes machine learning algorithms, indicated that XRP is likely to make modest gains and trade at around $0.52 on September 30, 2023.
XRP price analysis
In the past week, XRP experienced a correction that pushed its price below the $0.50 level, reaching a low of $0.48. At the time of writing, the token was valued at $0.50, with minimal gains of less than 0.1% over the last 24 hours and a 3% decline on the weekly chart.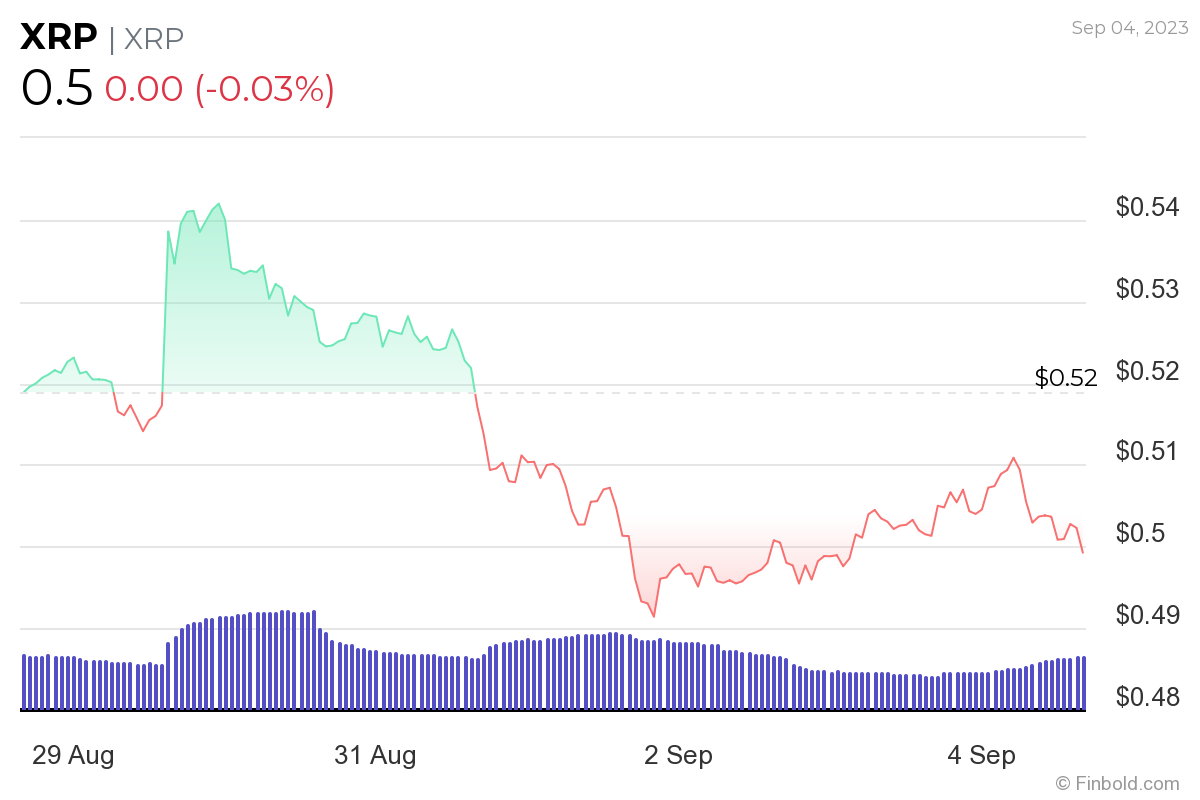 In addition to the potential impact from the legal front, XRP's prospects are also influenced by the broader market trends in the coming days. However, the sustained on-chain activity remains a positive indicator for the XRP ecosystem.
Disclaimer: The content on this site should not be considered investment advice. Investing is speculative. When investing, your capital is at risk.