On September 2, Ethereum Co-Founder Vitalik Buterin sold off his 500 MKR holdings for the first time in two years, triggering a 7% price downswing. Amid swirling controversy, on-chain data sleuths have spotted MakerDAO whales swooping in to buy the dip.
The controversial 500 MKR sale on September 2 marks the first time Buterin sold MKR tokens in two years. Speculations are swirling that Vitalik's transaction was in protest against a MakerDAO co-founder, Rune Christensen, proposing a fork of Solana codebase for a native chain.
However, despite the ensuing 7% MKR price correction, MakerDAO whales have been spotted doubling down on their bullish positions.
Whale Spotted Moving $12 Million Into Self-Custody
Amid swirling controversy, a giant whale has been spotted moving MKR tokens worth $12.3 million from a Binance wallet address into self-custody. On-chain data sleuth Twitter (X) account, Lookonchain, reported the transactions on Sept 4.
As depicted below, the whale address moved a total of 11,231 MKR tokens, worth approximately $12.3 million, from Binance over a period of 4 hours.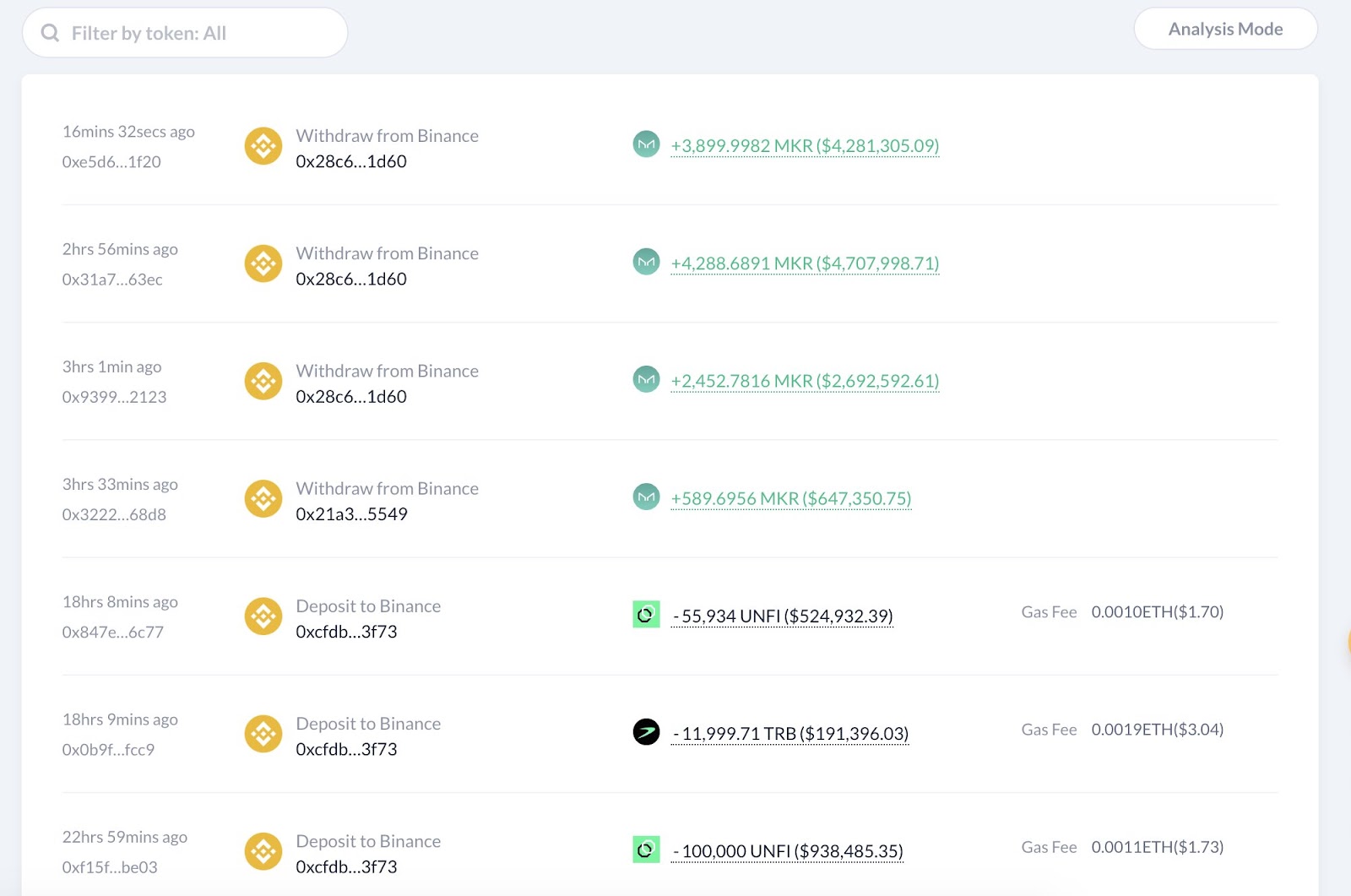 MakerDAO Whales Defy Vitalik Buterin —Will MKR Price Rebound? | Whale Transaction, Sept 2023, Source: Lookonchain
When crypto investors move tokens from exchange wallets into Self-Custody, it signals that the holder could be looking to HODL rather than seeking short-term selling opportunities.
The timing of this trade suggests that the MKR whale address identified above maintains a positive disposition in defiance of Vitalik's puzzling exit trade.
Hot Wallets vs. Cold Wallets: What's the Difference?
Amid the Controversy, MakerDAO Whales Have Kept Buying Behind the Scenes
Looking at the bigger picture, the abovementioned whale address is not an outlier. After Vitalik's exit, many more MarkerDAO whales have been buying behind the scenes, according to on-chain data compiled by Santiment.
On Sept 1, a day before Vitalik's controversial transaction, crypto whales holding 10,000 to 100,000 MKR had only 333,000 tokens in their cumulative balances. But as shown in the chart below, they have now increased their balance to 346,000 MKR.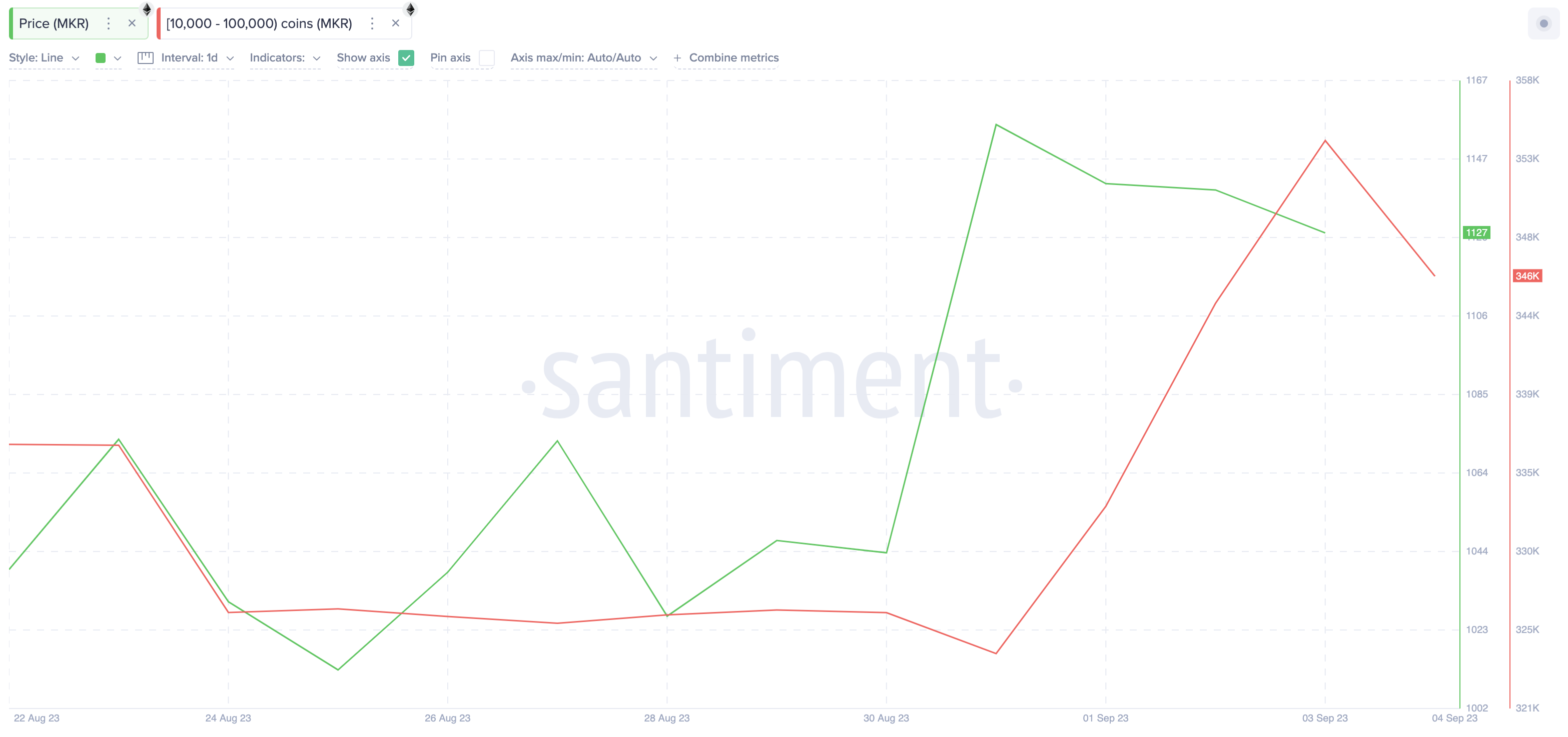 MakerDAO Whales Defy Vitalik Buterin —Will MKR Price Rebound? | Whale Wallet Balances, Sept 2023, Source: Santiment
This shows they have added 13,000 MKR to their cumulative balances since the Ethereum co-founder closed his position. This shows the whales are not looking to jump ship along with Vitalik.
Instead, MakerDAO whales took advantage of the 7% price drop, scooping the dip to the tune of $14 million within 3 days.
Unsurprisingly, on September 4, MKR price witnessed a sizeable 4% bounce as the markets reacted to the whales' defiant stance.
Crypto Whales are Buying These 3 Altcoins for September Gains
MKR Price Prediction: Native Chain Speculation Could Spark Rally Towards $1,300
The data above suggests that crypto whales have bought Rune Christensen's idea to create a MakerDAO native chain forked from Solana. It could take the Maker ecosystem in a similar direction to Binance, which forked Ethereum to create the BSC network (now BNBChain) in September 2020.
From an on-chain perspective, enabling developers to build projects on top of the proposed Maker chain could be bullish. It will likely deepen adoption and expand the utility of the native MKR token. Hence, bullish investors could accumulate MKR tokens in the coming days to front-run the potential gains from such an ambitious proposition.
This bullish stance is also validated by the In/Out of Money Around Price data, which depicts the purchase price distribution of current MKR holders. It shows that if MKR can scale the $1,150 mark, it would face minimal resistance on the road to $1,300.
As shown below, 802 addresses bought 41,260 MKR tokens at the maximum price of $1,154. If they share the whale's optimism, the Maker price rally could hit $1,291.

MakerDAO (MKR) Price Prediction – IOMAP data. Sept 2023. Source: IntoTheBlock
Conversely, the native chain development could also spark centralization concerns. If Vitalik's exit sways most investors, MKR's price could drop below $1,000.
However, as shown below, 1,160 addresses had bought 52,000 MKR at the minimum price of 1,084. They could offer considerable support by making last-ditch attempts to cover their positions.
But if that support level caves, then MRK price could eventually drop toward $900.
Anonymity vs. Pseudonymity: Understanding the Key Differences