XRP trades at $0.5037 with barely 1% growth in the last 24 hours. Amid the passive trend in the market, a prominent XRP analyst projected a daring bullish outlook for XRP.
In a recent tweet, chart analyst XRP CAPTAIN argued using the historical pattern XRP has exhibited over the past nine years.
XRP to $100 or $130?
The expert believes XRP hitting a three digital figure in the upcoming bullish trend is feasible. In particular, he noted an impeding breaking. He concluded that XRP reaching $100 to $130 beyond 2024 would not come as a surprise.
In his words:
"Imagine the magnitude when this breakout happens? I Won't Be Surprised If XRP hits $100 to $130 In the Next Bull run.
Can You Imagine The Magnitude When This Breakout Happens???? I Won't Be Surprised If #XRP Hit 100$ To 130$ In Next Bullrun???. #XRP Consolidation 2014 To 2017 VS 2018 To 2024. Full Throttle #XRPHolders #XRPCommunity pic.twitter.com/gm9hLiqh6M

— XRP CAPTAIN (@UniverseTwenty) September 3, 2023
Mathematically, XRP growing to $100 from its current price would imply a 1,9718% growth. Hitting $130 denotes a similarly astronomic growth of 2,5711%.
XRP 6-year Symmetrical Triangle
Notably, the analyst presented a market chart illustrating XRP's performance since 2014. At the time, the digital asset traded at a significantly low value, well below a cent. According to the chart, the XRP market was predominantly influenced by bearish trends from 2014 to 2017.
However, the chart vividly depicted XRP's remarkable shift to a significant bullish rally in 2018 following a crucial price convergence. Notably, XRP surged to an all-time high of $3.84 in 2018, a remarkable leap from its below-one-cent value in 2014. This astounding increase represented an exceptional growth rate of over 1,000%.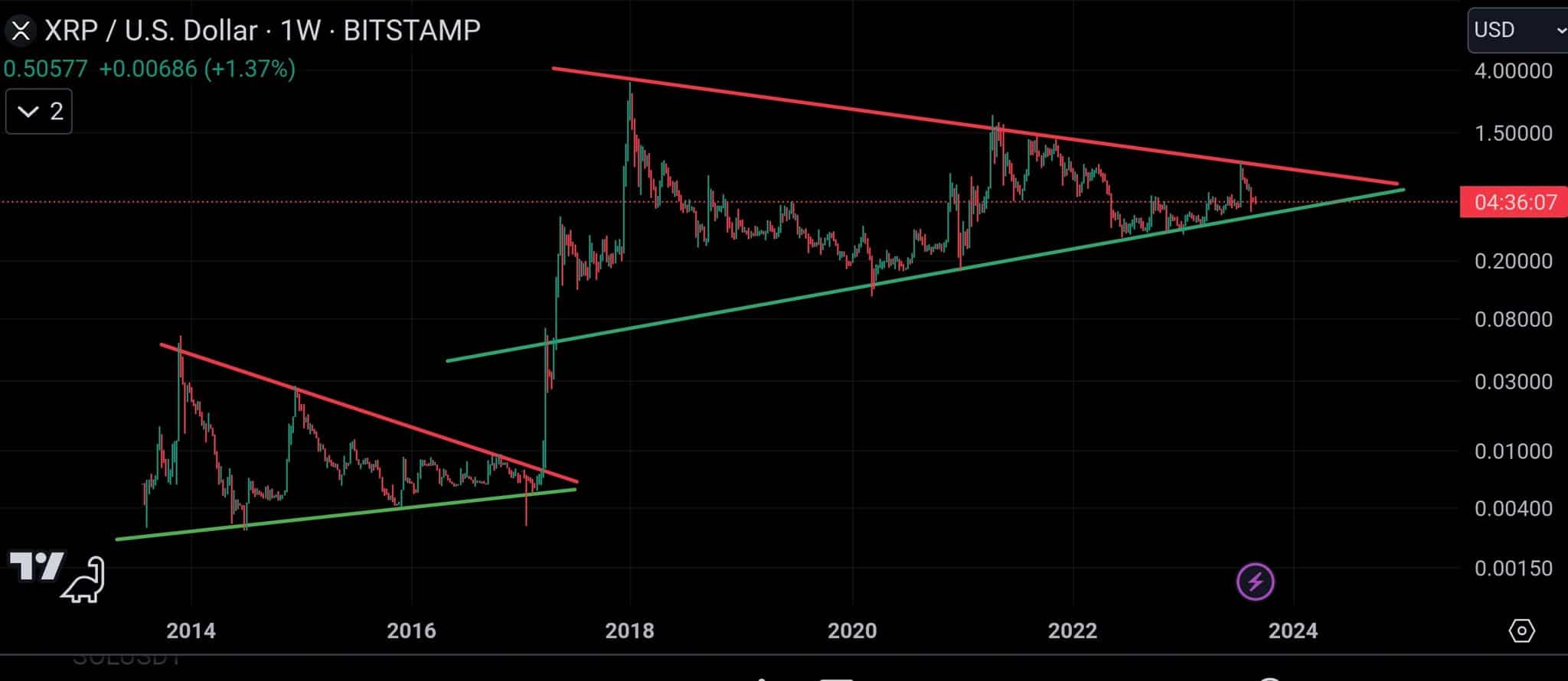 XRP historical pattern Source | XRP CAPTAIN on X
While XRP later saw a bearish trend, the exact historical pattern is playing out again now that XRP trades around $0.5. In other words, XRP may be seeing a similar upsurge, like in 2018 when it reached a new all-time high from below a cent.
The analyst is projecting that XRP could surge to $100 or $130 in the coming bull cycle. Where the prices materialize, it would mean XRP grew by at least 200 times.
The analyst provides a symmetrical triangle for XRP ranging from 2018 to 2024. The weekly chart provided by the analyst shows that XRP is Consolidation, and a breakout is possible in 2024. This breakout from a 6-year symmetrical triangle can take XRP $100 or $130.
Interestingly, XRP CAPTAIN is not the only analyst with a significant bullish outlook for XRP. As The Crypto Basic reported, a top analyst argued that XRP could hit $10 in the anticipated bullish rally.
It is worth mentioning that crypto market participants are always advised to do due diligence before investing in any cryptocurrency.