Ethereum's network has witnessed an astonishing surge, with over 467,000 unique address interactions in a single day, marking the highest activity level since the frenzy of Exchange-Traded Funds (ETFs) announcements began back on June 16th, Santiment reported.
ETH Unique Addresses Rises After ETH ETF Filings
This surge in activity comes after the anticipation surrounding the potential approval of Ethereum ETFs by the U.S. Securities and Exchange Commission (SEC). ETFs, which show that cryptocurrencies are becoming widely accepted, have the potential to make it simpler for institutional and ordinary investors to purchase Ethereum (ETH) and other cryptocurrencies.
Increased activity as a result of this extensive adoption frequently raises the asset's worth. ETH is trading at $1,639.36, with a 0.36% increase in the last 24 hours.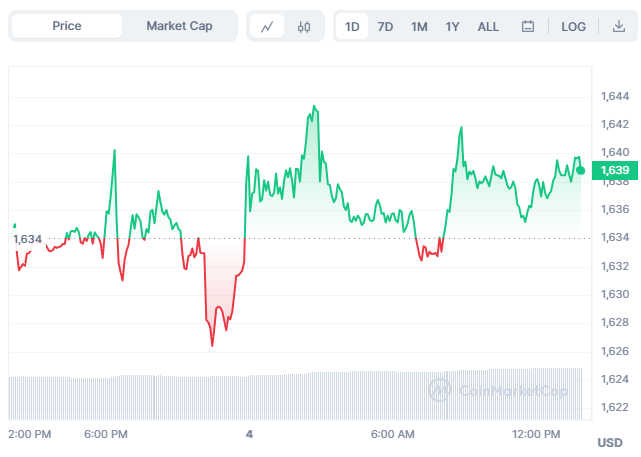 In a recent SEC filing on August 24th, Ark Invest and 21Shares were listed as sub-advisors for a joint Ethereum ETF product. The filing highlighted that Ethereum's future value hinges on its widespread adoption, emphasizing that any changes in this aspect could significantly impact its price.
The possibility that the SEC may approve the introduction of Ether ETFs as early as October has recently emerged, adding to the frenzy. A recent Bloomberg report further fuelled optimism, indicating that the SEC is leaning towards allowing the first exchange-traded funds based on Ether futures. This prospective action is viewed as a major triumph by numerous businesses who have long sought the chance to provide such products.
Notably, nearly a dozen companies, including Volatility Shares Trust, Bitwise Ethereum Strategy ETF, Roundhill Ether Strategy ETF, VanEck's Ethereum Strategy ETF, ProShares Short Ether Strategy ETF, and the Grayscale Ethereum Futures ETF, are all waiting for approval from the SEC. However, Bitwise has submitted a request to withdraw its ETF application for the Bitcoin and Ethereum Market Cap Strategy.
Also Read: Crypto Prices Today: Market Mostly Bullish With Pepe Coin, XLM And SNX Showing Gains
Good Road Ahead For ETH
The surge in unique address interactions on the Ethereum network is not merely a statistical blip; it signifies a powerful indicator of heightened utility. In the realm of cryptocurrencies, the value of assets like Ethereum is intrinsically linked to their utility.
The cryptocurrency community anxiously anticipates a potential inflow of investors and more activity that could further lift the value of Ethereum and set the way for an exciting new chapter in the world of digital assets as the SEC's decision on Ethereum ETFs approaches.
Also Read: Next Massive Shibarium Updates Teased by Top Developer