Crypto investment products at asset managers such as Grayscale, 21Shares, Bitwise and ProShares saw outflows of $11.2 million last week — adding to a multi-week streak totaling $342 million.
Outflows cooled off considerably from the $168 million seen in the prior week, however — and, with bitcoin products bucking the trend, there is some hope that negative sentiment is on the turn, according to CoinShares Head of Research James Butterfill in the digital asset manager's latest report.
This year has been marked by significant fluctuations in investor flows, primarily driven by the ever-present hopes and concerns surrounding digital asset regulations. Last week epitomized this sentiment, Butterfill said.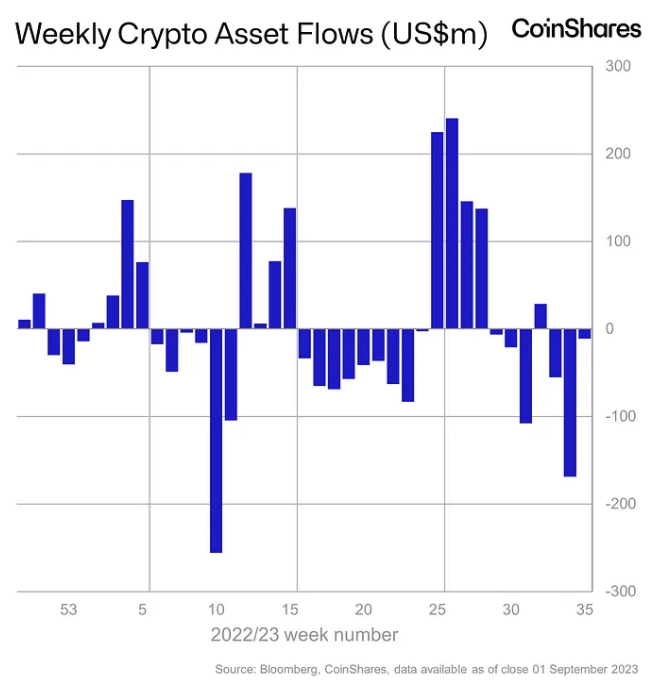 Weekly crypto asset flows. Image: CoinShares.
Regulatory rollercoaster
The week started with high hopes for a spot bitcoin exchange-traded fund in the United States, Butterfill added, as optimism surrounding the prospect of approval rose after the United States appeals court overturned the Security and Exchange Commission's block on Grayscale's proposal on Tuesday.
However, overall sentiment was knocked again as the SEC delayed seven spot bitcoin ETF applications from BlackRock, Fidelity, VanEck, WisdomTree, Invesco, Bitwise and Valkyrie until mid-October on Thursday.
While flow activity was subdued, trading volumes surged, clocking in at $2.8 billion for the week — some 90% above the year-to-date average. Despite the regulatory rollercoaster, year-to-date digital asset investment products still boast a net inflow position of $165 million.
Bitcoin bucks the trend
While the broader digital-asset fund market continued to experience outflows, bitcoin products bucked the trend, recording inflows totaling $3.8 million last week. On the flip side, short bitcoin positions witnessed outflows for the 19th consecutive week, amounting to $3.3 million, with total assets under management down 48% from this year's peak.
Solana investment products were another notable exception, registering inflows for the ninth straight week, bringing in $0.7 million. However, Polygon and Ether products faced outflows of $8.6 million and $3.2 million, respectively.
Regionally, Germany led the market with outflows totaling $26.9 million, while Switzerland recorded the most inflows at $14.8 million. The U.S. saw the minor inflows, totaling $1.9 million.